Tau Phi Cowboy Show
The Tau Phi Cowboy Show is the annual rootin' tootin', honky tonkin' country music production run by the club.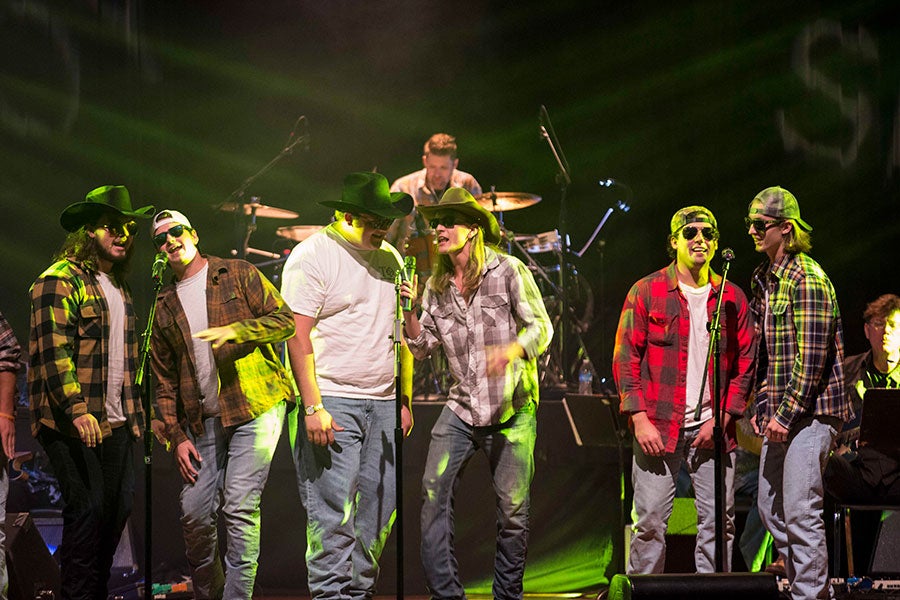 The Tau Phi Cowboy Show is the longest running student-led production on campus, with the exception of Singarama. It's hosted and performed by club members who welcome the vocals and performances of some of the most talented students at Lipscomb.

The event takes place in beautiful Collins Alumni Auditorium, allowing for an atmosphere that is full of fun and entertainment. Over the years the show has evolved from a small production to a much larger, professional production. In the early days of the show, members of the club comprised the band and performed outside on the steps of Alumni Auditorium. Now, the show has a much grander persona that seems to grow from year to year.
In 2021, the 41st Tau Phi Cowboy Show will incorporate some of country's biggest and most recent hits, as well as some throwbacks from earlier days of country music. Pat Flynn, Nashville singer/songwriter and producer, and his band will be returning to lead the show for the 23rd year. Flynn has been in the music industry for over 27 years and has worked with musicians such as Randy Travis, Tim McGraw, and Marty Roe from Diamond Rio.
The 2020-21 Tau Phi Cowboy Show is set for March 12, 2021 at 7 p.m. CST. There will be a limited in-person student only audience. However, the show will be streamed live at www.lipscomb.edu/live.