With family history rooted in Lipscomb, the university was always on the radar for Caleb Rogers ('22). Both parents were graduates, his grandfather was a professor, and his grandmother was principal at Lipscomb Academy's elementary school.
But Caleb had other aspirations, earning acceptance to many schools, including Vanderbilt and the University of Alabama. So why Lipscomb? 
"Junior or senior year I started to come around to the idea that it might be a good thing to be in this intentional community that's focused on the things that I find important," he remembers.
The possibility to attend other top schools didn't sway Caleb's confidence in choosing Lipscomb. "I'm going to have opportunities to intern and to be a good applicant for law school," he says. "Now, I'm applying to law schools, and I am just as competitive of an applicant as my friends that went to Boston College or Vandy or places like that."
Those opportunities came because of the relationships he built with professors at Lipscomb and the connections in Nashville they leveraged to help him. During academic advising before his senior year, Caleb was talking with his advisor, Professor Kimberly McCall, about what kind of internship he wanted to do. He was interested in appellate law, and it just so happened that Professor McCall knew the appellate court clerk and sent an email on Caleb's behalf. That email led to an internship in the Tennessee Appellate Court Clerk's Office.
After four years, Caleb has become deeply involved in campus life as a Trustee Scholar, Quest Team member, student worker in the Registrar's Office, captain of the Ultimate Frisbee club team, member of the President's Student Advisory Council and an SGA college liaison.
"It's like a self-perpetuating cycle. You sort of put yourself out there and then people help you put yourself out there, which makes it easier to get more involved."
---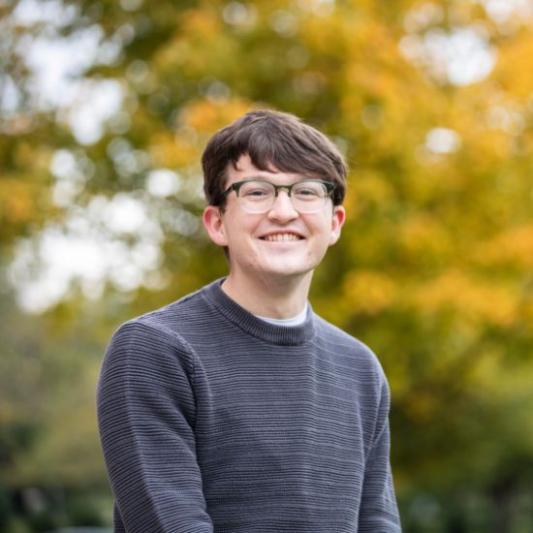 "You Don't Have to Stay on Campus the Whole Time"
"It's not that campus is not the place to be. Everyone's always on campus, but there's also this real sense that you don't have to stay on campus the whole time, and in fact, you shouldn't. You should take advantage of all of the cool things that are going on in the city all of the time."
Taking Advantage of Nashville
Bringing Lipscomb to the community
The LIFE (Lipscomb Initiative for Education) program gives prison residents the opportunity to earn a Lipscomb Degree, and Service Day mobilizes the entire campus community to participate in projects all over Nashville. "There's just such an enthusiasm about going out there to bring the Lipscomb community into a place that it otherwise might not be."
The best part of living in Music City is that you can hear a quality performance almost anywhere at events like Musician's Corner in Centennial Park or farmer's markets in different neighborhoods—not to mention storied venues like Ryman Auditorium, the Bluebird Cafe or Bridgestone Arena. "Every band's tour comes to town. I've been to so many concerts."
Experiential learning opportunities
Nashville is a hub for health care, technology, finance and, of course, music and entertainment, which means internship and job opportunities for Lipscomb students and alumni. "I have so many friends who have so many stories about the really cool internship they got or classes getting to go on field trips to different places that are doing really interesting work."
---
More Resources For Juniors