When Alexis ('22) began her college search, she was dead set on another school, but she was pleasantly surprised and so grateful she discovered Lipscomb.
"I was the type that had my whole life planned out at 14 years old," Alexis says. "As you would expect, that is not how my life has turned out thus far."
With a brother who lives in Nashville and works as a Christian recording artist, Alexis first heard about Lipscomb when she attended the Dove Awards on campus. That put Lipscomb in the back of her mind, and she decided to come back for a tour. She wasn't sure about a small school but saw value in the Lipscomb experience.
"I remember on my tour they emphasized community," she recalls. "That's a million-dollar word at Lipscomb. They walk the walk in their foundation of faith. You can get baptized in the middle of the campus! That isn't something you get even at other Christian colleges."
Now she's a senior putting the finishing touches on her education and feels that what was presented on her tour was true to real life at Lipscomb. "The professors in the College of Bible & Ministry are very approachable and relational. So what was being presented during my college tour is what I really got to experience."
And her time at Lipscomb has been enriched just as much by what she's experienced in Nashville and done outside the classroom as a member of the Quest Team, New Student Orientation team, Black Student Union, African Student Association and the Office of Intercultural Development.
"I would never get this type of stuff in my hometown. I love having access to different experiences."
---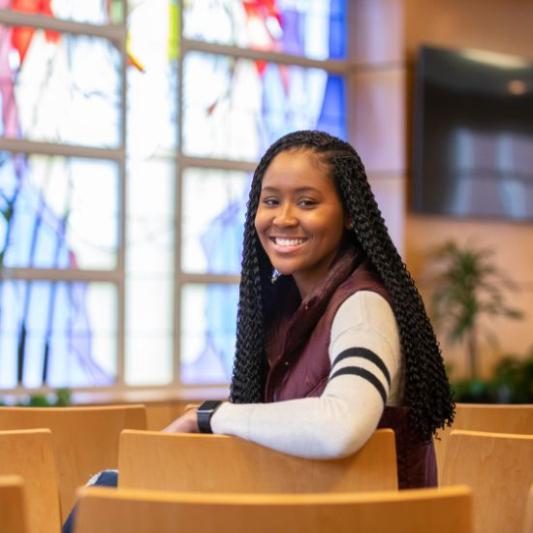 "I knew I wanted to go to a Christian school because my faith is important to me."
"I really found value in the small community. I knew I wanted to go to a Christian school because my faith is important to me. I knew it'd be easier to find people who loved God as well and to be in that type of community."
A Place Where Faith Is Central
College of Bible & Ministry
As a student in the College of Bible & Ministry, Alexis discovered a community within the Lipscomb community. She says her professors are approachable and relational, and she's never had a class larger than 30 people, which provides an intimate setting for deep and meaningful discussions.
Vocation and Spiritual Formation
Alexis also worked as an intern in Lipscomb's Office of Vocation and Spiritual Formation, which focuses on developing an atmosphere on campus that welcomes searching questions and champions spiritual growth while helping students explore how their gifts and faith inform their vocational calling.
Pursue what's important to you.
"Pay attention to who you are when you are looking for colleges because that is very important. At the end of the day, you're going to get a degree, but whether or not you grow as a person and really enjoy your time has a lot to do with things outside of the academics that a college has to offer."
---
More Resources For Juniors