Tennessee's newest Teach For America corps will earn graduate credit from Lipscomb
Through expanded partnership, Lipscomb and Teach For America Nashville-Chattanooga work together to make sure Chattanooga corps teachers learn what they need to be licensed in Tennessee.
Kalli Groce |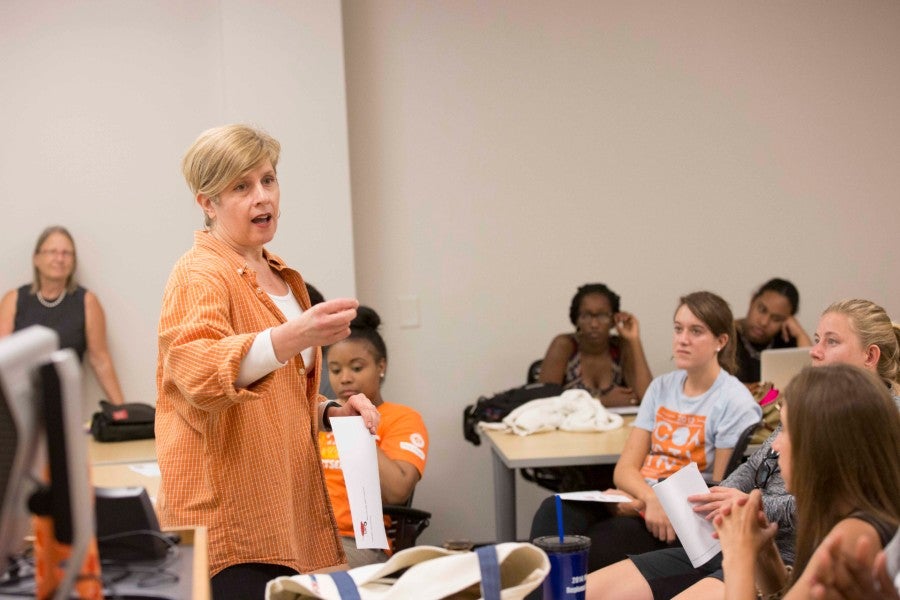 Since 2009, Lipscomb has had a strong partnership with Teach For America Nashville-Chattanooga, and the two have been working together for years to expand access to quality education and opportunities for Tennessee children. 
Now TFA Nashville-Chattanooga has expanded its partnership with Lipscomb to include instruction for its newest corps in Chattanooga, and it is already making a difference there. Lipscomb has established coursework and an on-site liaison in Chattanooga for the new corps members, who are teaching in opportunity zone schools in Hamilton County. A contract between Hamilton County Schools and Teach For America was approved in a 6-3 vote by Chattanooga's school board in November 2018.
Lipscomb plays a key role in training TFA Nashville-Chattanooga corps members by providing the coursework needed for them to obtain their teaching licenses while working in full-time teaching positions.
So far this year, the TFA Chattanooga corps members have had two courses: 1) Building Classroom Communities and 2) Planning, Instruction & Assessment. In Building Classroom Communities, corps members focused on constructing a classroom management plan that they then implemented in their classrooms. These plans are designed to affect the climate and culture of their teaching and learning in positive ways. In Planning, Instruction & Assessment, corps members learned how to plan instruction using the "Understanding by Design" framework by Wiggins & McTighe and planned an intensive unit of study, which they will teach in their classrooms beginning in January.  
Both of these courses have impacted corps members' professional practices in tremendous ways. When asked at the end of the semester to self-assess their growth as educators over the term, a majority of corps members indicated that their own professional growth was increasing outcomes for students in positive, observable ways, said Robin Cayce, assistant professor of education. 
Cayce, the Lipscomb liaison based in Chattanooga, works directly with TFA Nashville-Chattanooga to advise and facilitate courses for the Chattanooga corps members. Cayce was previously the director of programs for Chattanooga 2.0. Beginning her career in education as a fifth-grade teacher, Cayce went on to serve as a principal in both Hamilton County Public Schools and Metro Nashville Public Schools. She also previously served as the director of professional development, pre-K through fourth grade, for Metro Nashville Public Schools. Cayce is the author of Project APPLE (Autistic Preadolescent Proactive Learning Environments). 
A Beautiful Partnership: TFA Nashville-Chattanooga and Lipscomb
Lipscomb has instructed more than 1,000 TFA Nashville-Chattanooga corps members since 2009, said Julie Simone, an instructor at Lipscomb's College of Education and lead faculty liaison to Teach For America Nashville-Chattanooga. A substantial number of the corps members from TFA Nashville-Chattanooga get their master's or higher degrees from Lipscomb. The rest complete the teacher licensure (non-degree) program at Lipscomb, noted Simone. 
In 2019, Lipscomb University set a new university record with five students and alumni selected by the U.S. Department of State as Fulbright awardees, two of whom were Teach for America participants. Melissa Edberg, a December 2018 Master of Education graduate, was selected for a Fulbright fellowship in Spain, and Hannah Logsdon, a May 2019 Master of Education graduate, was selected for a Fulbright fellowship in Greece.
"Lipscomb University is excited to be in partnership with Teach For America Nashville-Chattanooga as it expands its presence in Tennessee," said Deborah Boyd, dean of the Lipscomb University College of Education. "These corps members are already improving the educational experience for young learners in Nashville and Chattanooga. We are proud of the instructional work we are doing with TFA Nashville-Chattanooga and look forward to continuing this successful partnership well into the future." 
 
TFA is a community of change makers and coalition builders: "leaders who teach, and teachers who lead." TFA, which was founded in 1989, recruits top graduates from across the country to teach in low-income, high-poverty, urban schools. It trains corps members through an intense, five-week summer institute and then supports them throughout their two years in the classroom. The organization was originally established to fill teacher shortages or hard-to-fill positions. 
The Power of Relationship
"We are honored to partner with the Hamilton County Department of Education and the many change agents who have been leading the work to strengthen educational outcomes for students in Hamilton County," said Eric Dailey, vice president and deputy executive director for Teach For America Nashville-Chattanooga. "Our long-standing partnership with Lipscomb University serves as one of the many ways we provide support to our corps members throughout their journey. We are thrilled to deepen our partnership with the university as we establish our footprint in Chattanooga."
 
One of the keys to Lipscomb's successful classroom instruction for Chattanooga corps members is its focus on building relationships. 
"The TFA program officially started in Chattanooga in summer 2019, and it is going very well," noted Cayce. "Chattanooga corps members are completing coursework with Lipscomb instructional support. Chattanooga takes an innovative approach to community building, educational collaboration and growth."
One corps member recently shared a personal story with Cayce about a student with whom she had struggled to build a relationship so far this year. "Our last class session happened to be on [the corps member's] birthday, and she shared a picture from her phone of a birthday note the student had left for her on her desk," said Cayce. "She shared how much the simple note had meant to her and how much she is understanding the power of relationship building. There are so many layers to being a new teacher, and the corps members are definitely working their way through these layers, one by one."
Teach for America has nearly 62,000 alumni and corps members in over 50 regions around the country, and its network now includes thousands of teachers, school principals, assistant principals, deans, school system leaders, policy and advocacy leaders, elected leaders and social entrepreneurs. And while only one in five Teach for America corps members had plans to teach before applying to TFA, 85 percent of alumni are now working in education or careers serving low-income communities.
TFA is working to realize the day when every child has an equal opportunity to learn, grow, influence and lead, values shared by Lipscomb, where the College of Education strives to develop educators who are leaders and lifelong learners prepared to lead educational organizations through innovation, collaboration and strategic change. 
The Lipscomb College of Education is consistently ranked as having one of the most effective teaching programs in the state of Tennessee and the U.S., thanks to the difference its graduates make in the classroom, so the partnership with TFA has proven to be a great fit.