Tau Phi Cowboy Show to celebrate 40th year Sept. 28
Students have a variety of opportunities to get involved in campus life. The Tau Phi Cowboy Show is one of Lipscomb's oldest campus traditions.
Kim Chaudoin |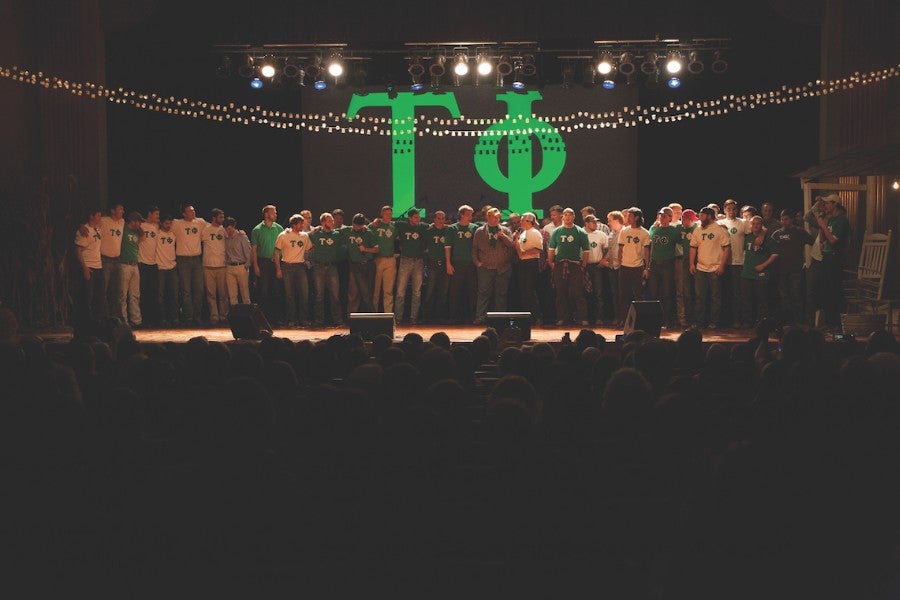 Nashville is known for its country music and cowboy boots. 
So is Tau Phi, Lipscomb's oldest men's social club. 
One of Lipscomb's longest running traditions — the Tau Phi Cowboy Show — returns for its 40th year Saturday, Sept. 28, to the Mother Maybelle Carter Stage in Lipscomb University's Collins Alumni Auditorium. The show begins at 7 p.m.
The show is hosted and performed by the members of Tau Phi along with a few other guest musicians and vocalists. In this year's production, students will cover some of today's most popular country artists and will feature the first father-son duo in the history of the show.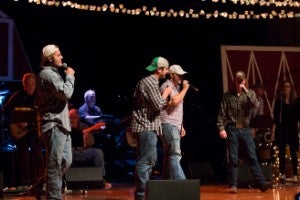 Pat Flynn ('92), Nashville singer/songwriter and producer, and his band will return to lead the show for the 22nd year. Flynn has been in the music industry for over 30 years and has worked on many CMA and Grammy award-winning projects such as Randy Travis' Rise and Shine album and Lee Ann Womak's "I Hope You Dance." Flynn wrote Garth Brooks' hit single, "Do What You Gotta Do," and performed numerous hit songs as a member of the highly acclaimed bluegrass band New Grass Revival.
Wyatt Eaton, a senior electrical engineering major from Kingston, Tennessee, is directing this year's show. Judson Chaudoin, a junior supply chain management major from Nashville, is assistant director. Hunter Taylor ('19), 2017 Tau Phi Cowboy Show director, will host this year's show.
The Tau Phi Cowboy Show had its initial beginning in 1974 on the steps of Bison Square as part of the traditional Bison Day festivities. As part of the Bison Day tradition, members of social clubs dressed up on costumes and put on skits, sang songs or do cheers. Members of Tau Phi dressed up like cowboys and sang a few country songs as part of the club's Bison Day presentation.
In 1979, the Tau Phi show that was part of Bison Day officially became a full-fledged show with singers and musicians performing a variety of country songs that were native to Lipscomb's hometown Nashville — Music City, USA. From that first show in Collins Alumni Auditorium in 1979 through the next four decades,  the Cowboy Show has evolved from a small production to a much larger, professional production. Through its 40 year history, the Tau Phi Cowboy Shows has featured hundreds of talented Lipscomb students, some of whom have gone on to successful careers in the music industry. Past student performers include: 
Thomas Rhett, a former member of Tau Phi, 2019 Academy of Country Music Male Vocalist of the Year who released his fourth studio album, "Center Point Road" in May.
Dustin Lynch ('07), a former Bison golfer and member of the Grand Ole Opry, who is currently touring with Rhett
Kelsea Ballerini, a former Singarama host, who was inducted as the youngest member of the Grand Ole Opry in April.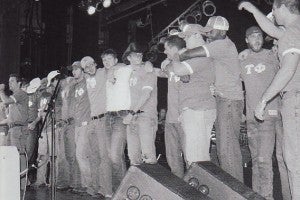 "The Tau Phi Cowboy Show has been around for 40 years because it has had great leadership throughout the years," said Eaton. "As the university has evolved and country music has changed, Tau Phi directors have had the vision and the help of club members as well as other talented students to continue to provide an excellent show year after year that people that is appealing to audiences of all ages and musical tastes." 
Tickets are $15, $10 for students and $5 for veterans. All seats are general admission. Tickets may be purchased at the door or in advance. T-shirts will be on sale for $15 on the night of the show and in the days leading up to the show in Bison Square. Proceeds will benefit the Room in the Inn shelter located in the Student Activities Center on the Lipscomb campus during the winter months and Wreaths Across America.