School of Nursing launches initiative to see the 'Smile Behind the Mask'
Lipscomb's School of Nursing is finding a way to share the smiles of its students
Kim Chaudoin |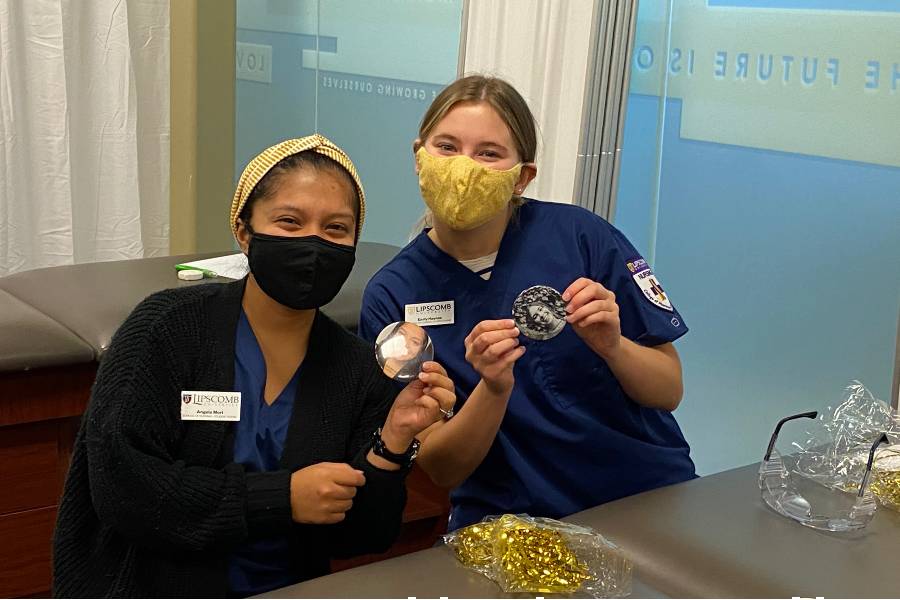 While mask wearing has become a common defense against the COVID-19 pandemic, it has also created an unintended barrier covering faces and expressions that are an integral part of connecting with others. 
In an educational setting, facial recognition is important in relationship building and developing rapport. For health care providers, facial expressions are key in engaging patients and putting them at ease during sometimes stressful or scary situations. 
For faculty and staff in Lipscomb's School of Nursing where those two worlds come together, the importance of facial expressions is significant. While the fall semester is off to a good start, faculty and administrators in the School of Nursing were missing getting to know the smiles of the student nurses as well as being able to smile at them. 
"Such a large percentage of our communication is nonverbal and facial expressions are an important part of that communication especially in educational and health care settings," explains Dr. Chelsia Harris, executive director of Lipscomb's School of Nursing. "Because we are in a season where we are wearing masks to protect the health and safety of our community, a by-product of that is that it impedes our ability to smile at others. The masks cover the beautiful smiles of our students. It is also difficult to get to know each student when many of us use facial recognition in remembering someone. This was becoming a bit frustrating for some of our faculty and students."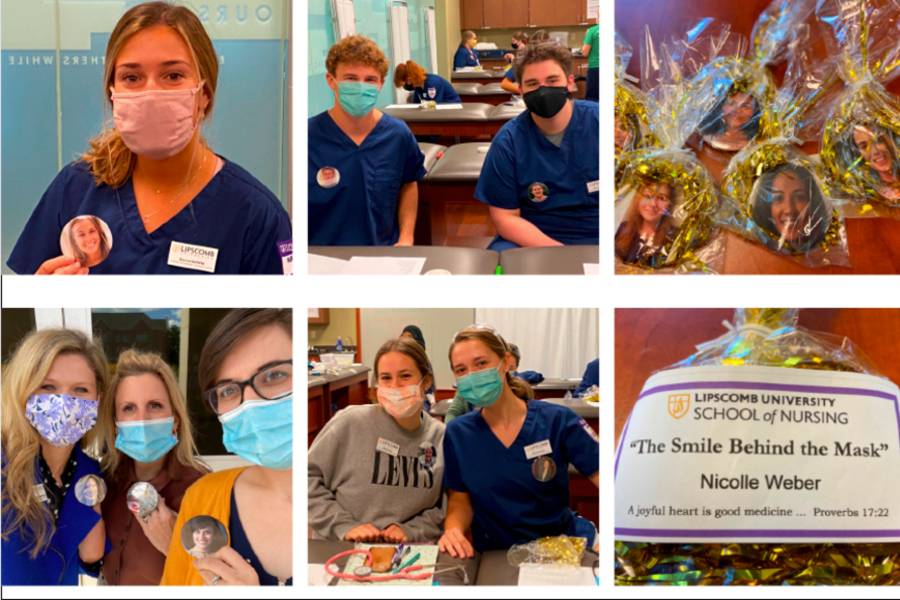 So the nursing faculty and administrators decided to find a creative way to share and see smiles even in the midst of wearing masks. And the "Smile Behind the Mask" initiative was born.
Harris said the faculty collected candid pictures, close-up of smiles and faces, of every junior and senior nursing student enrolled in upper division nursing courses, as well as every faculty, staff and administrator. Students did not know why they were submitting photos. 
The nursing team took the photos and had them printed with the Lipscomb School of Nursing logo on buttons that can be worn by students, faculty and staff to show the smile behind the mask. This is similar to what has been done in hospital pediatric units in the area to help children not be so scared of the health care providers wearing masks and face shields.   
"Everyone will wear their buttons each day in class, laboratory and clinical settings where permissible to share the beautiful smiles behind the masks," says Harris. "We want our students to know that we want to know them as created in God's divine image. His joy and light often shine through our smiles. This is one small and fun way to help these smiles shine that will hopefully have a big impact!" 
 
Junior and senior student nurses were surprised to receive their buttons in early October. Harris says the response has been very positive.
"Students were so excited to receive these buttons and the faculty and staff have also enjoyed wearing them and getting to know the smile behind the masks," says Harris. "It has added an element of fun into our school and we hope it will continue to bring joy to others throughout the year."
For more information about Lipscomb's School of Nursing, visit www.lipscomb.edu/nursing.