Pharmacy alumni open independent pharmacies in a big box world
In a retail world full of big box stores and online merchants, it's not common to see the neighborhood-based, community pharmacies spring up. Lipscomb's College of Pharmacy, however, has seen 10 of its graduates strike out and start their own in the past decade.
Janel Shoun-Smith | 615.966.7078 |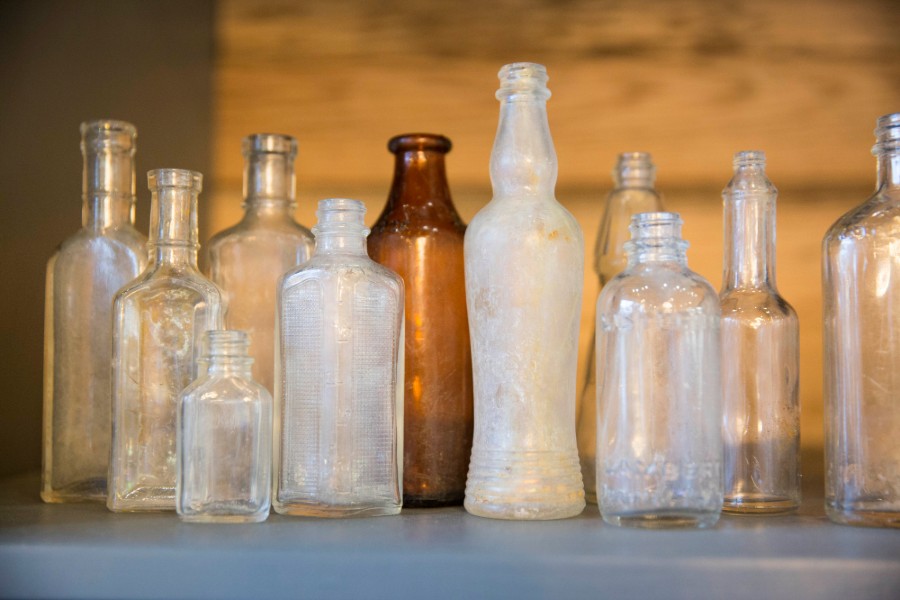 In a retail world full of big box stores and online merchants, it's not common to see the neighborhood-based, community pharmacy spring up very often. Lipscomb's College of Pharmacy, however, has seen 14 of its graduates strike out and start their own independently owned pharmacies in the past decade.
This issue of The Script begins a series highlighting each of these intrepid entrepreneurs, beginning with two who have opened unique retail outlets in growing areas of the Greater Nashville region: Todd Garrett (PHARMD '14, '10) in Franklin and Chad Huntsman ('15) in the outskirts of Nolensville.
Don't miss the Script pharmacy owners series in future issues. Currently expected to be featured are Jay Wilmore, Jade and Matt Fricks, Elizabeth Cherry, Jennie and Kelby Sutton, Luke Wright, Jared Lonon, Andrew Byrd, Heather Hollingsworth, Brad Medling and Grant Mathis.  
Franklin Pharmacy makes customers feel like home
"The entire reason I went into pharmacy was to own my own pharmacy," said Todd Garrett, a Hoover, Alabama, native who realized his dream in November 2017. "My mom's best friend owned a pharmacy, and as I grew up, I saw the light she was in her community."
But it took a while to get to the point where he was ready to open Franklin Family Pharmacy, 400 Downs Blvd., Suite 150. He came to Lipscomb to study for his undergraduate and pharmacy degrees and the overall retail environment was not encouraging.
"The desire was always there, but when I started school, I became discouraged when I saw more independent stores closing than opening," said Garrett.
So after graduating he began work with Wal-Mart in the Nashville area for two years and later worked with Pharmaco Genomic Co. During those professional years he became acquainted with two other pharmacists who were successfully running their own pharmacies, and their experience gave him hope.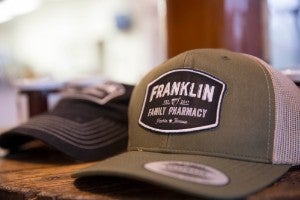 So when he saw that the only Franklin-based mom and pop pharmacy closed its doors, he knew that left a void he could fill for Franklin residents looking for a different shopping experience.
"I love that I can make my pharmacy very different from the major chain establishments," said Garrett, who worked with marketing company Parker Mason to stock the floor of his store with locally made home decor, natural remedies and gifts. "We put a lot of intentionality into that. We want it to feel a sense of warmth when they walked in. We want people to experience life when they walked through the doors."
In the month of November, the store was already stocked with vintage toys, wreaths, quirky bowties candles and jewelry. The shop offers comfy couches for customers while they wait and their medications are delivered in bags featuring vintage pharmacy advertisements.
Since it's opening, Franklin Family has grown slowly, but at a steady pace, said Garrett.
"We take the time to talk to customers and get to know them," said Garrett.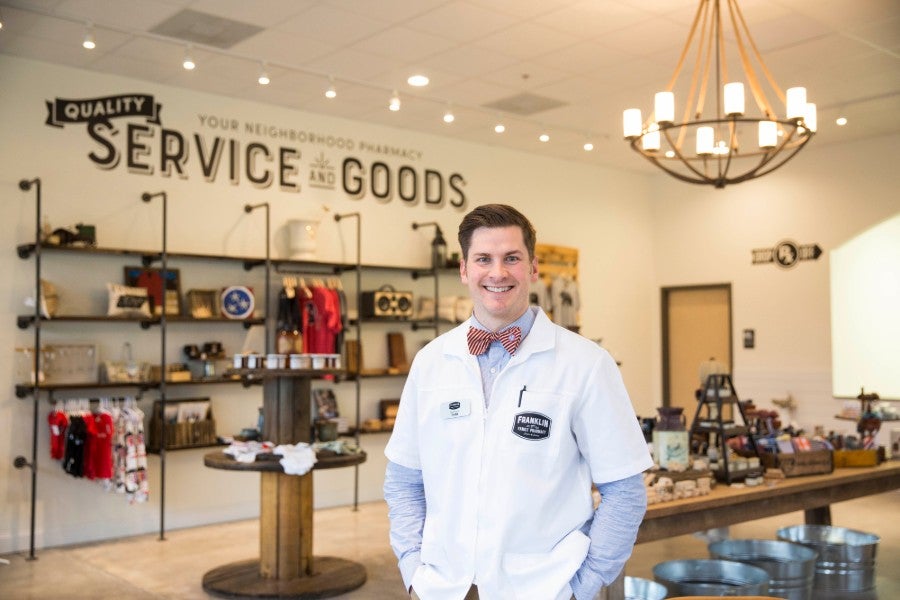 Daily healing is a 'humbling opportunity'
Chad Huntsman came from a pharmacy family as his father owned several pharmacies in East Tennessee throughout his life. However, he began his early career in construction and restaurant development based in East Tennessee.

But Huntsman always had a passion for helping people, and he would try to carry out that mission through his construction business. Over time, he began to realize how many opportunities his father had to help people every day, in small but meaningful ways.
"I tell my employees, that when they come to work every day, they are literally the ones who get to help make people well. It's a humbling opportunity," Huntsman said.
So, when the economy began to change, Huntsman decided to take up pharmacy and earned his degree from Lipscomb in 2015. Today, Huntsman owns two pharmacies in East Tennessee along with his classmate, Jacob Cox ('15): his father's original store in Morristown, College Park Pharmacy, and Mooney's Pharmacy in Johnson City. The pharmacist-in-charge of College Park is David Mitchell ('14).
They also just opened their newest store, J.J. Beans Pharmacy, in Nashville this past fall. J.J. Beans comes from the nicknames that Huntsman has for his two daughters, J.J. and Beans. The store operates on a true customer-first philosophy, he said, pointing out posters around the store that declare their four guiding principles: patients come first, treat others the way you want to be treated, choose to encourage, and have wisdom, integrity and trust.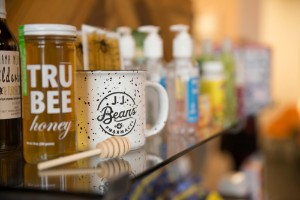 As the J.J. Beans pharmacist-in-charge, Huntsman hired another Lipscomb graduate, Carrie O'Saile Duncan ('17), who began working at Perkins Drugs in Gallatin, Tennessee, at the age of 16. She became a pharmacy tech at Perkins before earning her degrees in Nashville. She completed a residency at Marcrom's Pharmacy in Manchester, Tennessee, before heading to J.J. Beans in July.
"So far, at J.J. Beans, I have had the opportunity to be the face that patients feel confident coming in to talk to. They think of me like family," said Duncan.
Even before the store's grand opening, local residents of the Lennox Village community were stopping by to check out the various gift, decor and over-the-counter options (Huntsman also collaborated with Parker Mason to offer locally made products in the front of the store).
"People are excited we're here," he said.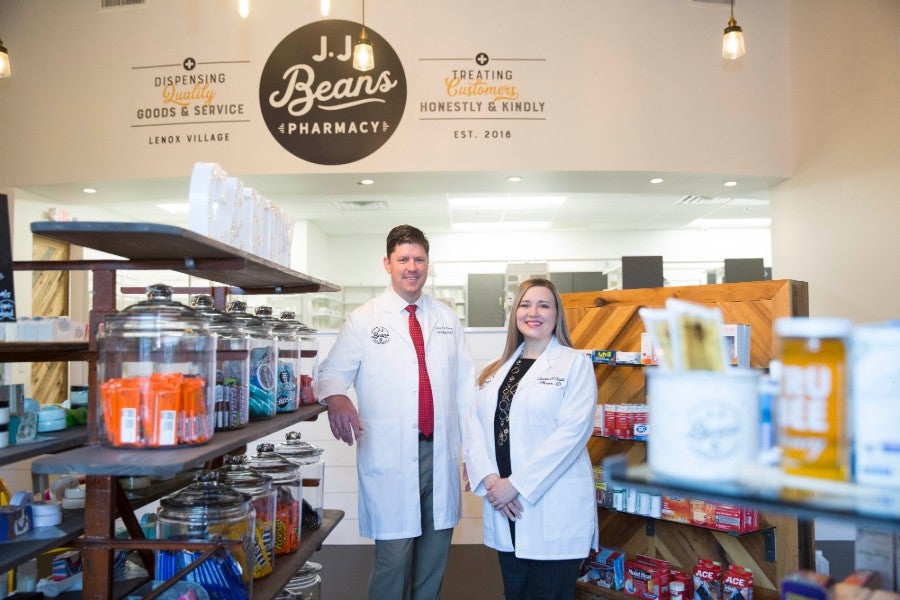 Independents fill a niche
Both Garrett and Huntsman say that customer-focused service is the key to surviving in today's competitive retail market. Both offer enhanced pharmacy services such as home delivery of meds either through personal delivery or mail, curbside delivery and synchronization of medications, services that are often beneficial to elderly patients and families.
In addition, Medsync also provides various other advantages, allowing pharmacists more time to focus on therapeutic optimization for patients, smoother operations and better inventory management, said Huntsman.
Independent pharmacies have a competitive advantage he said, by hiring the best pharmacists, who are most interested in serving patients and providing the best care.
Finally, Huntsman believes that collaborative practice is how independent pharmacies will make their way in the future. An example is working with providers to make therapy decisions for patients who experience insurance problems, thereby ensuring those patients get the needed medications to take home. Another example is a pilot program his store is conducting with Covenant Health at their hospital in Morristown called meds-to-beds. In this program, the pharmacy delivers a patient's medications to the hospital before discharge and performs face-to-face counseling through an IPad.