Los-Angeles-based Shun Lee Fong shares industry experience as faculty in online entertainment management program
Industry leaders from across the nation are preparing the next generation of entertainment management professionals in Lipscomb's unique online program
Kim Chaudoin |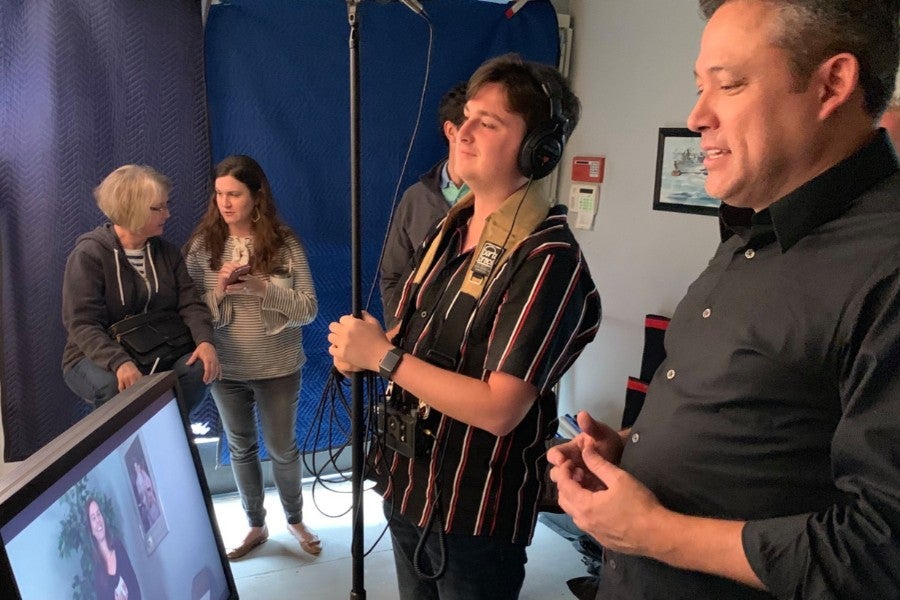 One of the most powerful ways to learn any profession is from experts in the field. That is particularly true in the entertainment management field. Students in Lipscomb's online entertainment management program are learning from industry veterans and leaders such as Shun Lee Fong, who have a passion for faith-based education and the creative arts.
Fong is CEO and creative principal of Genuine Productions LLC, a media and entertainment production company with an emphasis on both original and client-based film, new media and publishing, that works with businesses, churches, ministries, schools and other organizations to create original content. He is also president and creative director of a nonprofit creative arts organization called The Greenhouse, which in its 12 years of existence has had approximately 8,500 creatives from all over the world come through its various programs.
In addition, Fong is an acclaimed director, producer and actor and, since 2016, he has been an adjunct professor at Lipscomb University. 
"I enjoy teaching for a number of reasons. Not only do I get to pass along the knowledge and experiences that I've gained over the years, but I also get to challenge creative artists to approach their projects and careers from a viewpoint that starts with an understanding of what it means to be made in the image of God as the Creator," says Fong. "I also get to interact with the up-and-coming talent, finding the creatives who are diligent in investing in their own artistry and careers. I get to see and appraise the skills of the next generation of creatives who will be entering the entertainment industry and who, hopefully, I will have the opportunity to work with in the months and years ahead."
Based in Los Angeles, Fong teaches three online entertainment management courses for the College of Professional Studies — entrepreneurship, nonprofit arts management and entertainment business. He also teaches the entertainment law course for Lipscomb's School of Theatre and Cinematic Arts, housed in the George Shinn College of Entertainment & the Arts.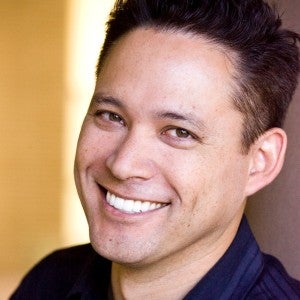 "I love the fact that Lipscomb University is consistently stretching and expanding its online program to include courses that are practical and constructive for the students in the program," says Fong. "The program is focused not only on conveying valuable information, but also on giving hands-on assignments that the students will be able to carry with them into the marketplace and well into their careers."
 
Lipscomb's online entertainment management program highlights the financial and operational aspects of entertainment, designed to produce industry-savvy business leaders. Students may earn up to 30 credits in the College of Professional Studies' competency-based assessment center simulation toward this 126-hour degree. The program offers a Bachelor of Science degree as well as a Bachelor of Professional Studies degree and is designed for the working artist and aspiring entertainment entrepreneurs. The online program is offered in two formats — a traditional 8-week term (SetPACE) or four months of unlimited courses (FlexPACE). With the pacing of the courses flexible, students can work more quickly. The program is offered in partnership with Lipscomb's George Shinn College of Entertainment & the Arts.
The competency-based courses can be taken at any time, even on a tour bus or a photo shoot. Since the pacing is flexible, students can work more quickly between gigs, and slow down when time is limited. The competencies students learn will help them manage the for-profit and nonprofit business side of entertainment, but they are also transferable to other industries.
 Students develop the competencies of communicativeness, drive/energy, influence, organizing and planning, problem solving and decision making and relationship building. Specific courses  include servant leadership, marketing concepts, management principles, nonprofit arts management, entertainment business and entrepreneurship and the arts.
In addition to offering students flexibility, Lipscomb's online program provides students with expert faculty who are fully accessible to students to provide one-on-one coaching and online library database so students can work on-the-go.
"Of course learning the fundamentals and foundational principles and information of a particular profession or field is critical," says Ted Meyer, associate dean for admissions and enrollment services in Lipscomb's College of Professional Studies. "But learning from those in the field who can share their experiences and how they've applied the lessons learned in the classroom is also a key component of an education. Not only are students learning from the experiences and insights of these industry leaders, they are also networking and developing relationships that will also be a benefit to them in the future." 
 
Fong, who began his career as an attorney, first connected to Lipscomb through Steve Taylor, director of the university's School of Theatre and Cinematic Arts who invited him to teach entertainment law. After graduating from Creighton University with a degree in journalism and mass communications, Fong earned a Juris Doctorate at the University of Iowa. He practiced law for five years in Nebraska and Iowa, focusing on civil litigation, corporate transactions, intellectual property and media law.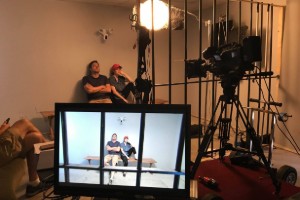 "I have always been drawn to the creative arts," admits Fong, whose parents and seven siblings have been involved in the creative arts in some fashion over the years. "Growing up, I was quite involved in creative performance as well — playing cello, piano, and guitar, leading worship at church, acting in films, commercials and theater, modeling and more. During law school, I even played bass guitar and sang vocals in a pretty good cover band that was quite popular in the area."
 
As an attorney, Fong gravitated toward the areas of law that were closest to the creative arenas such as copyright, trademark and other intellectual property concerns as well as media and entertainment law. 
 
"I found myself sneaking out of my rather prestigious law firm at lunch to attend the auditions my agent had scheduled for me and just praying that the partners in my firm wouldn't see any of the projects in which I was appearing," he recalls. "I began to realize that what I was really drawn to as a person, what made me come alive, were artists and stories and the creative arts. So after having a lot of serious conversations with mentors and spending a lot of time in prayer, I stepped down from my career as an attorney and dove into the entertainment industry full time." 
 
"From a big picture perspective, I think I am also drawn by the huge influence that entertainment and the arts have in shaping our culture—locally and globally—and the opportunity to play a role in that process."
 
In 2003, Fong followed the call of the creative arts and left his law practice to pursue professional acting, writing and other creative opportunities. Since then, he has performed in a number of productions in film, theater, commercial, voiceover and print, and is a member of the Screen Actors Guild-AFTRA. Fong has spent significant time on stage and in the recording studio as a songwriter and multi-instrumental musician. He also has written a number of screenplays, articles and other works and is an often-requested speaker. In addition, he is the author of The Saints & The Poets, a book of essays on creativity, leadership and faith. 
 
No two days look alike for Fong who has a wide array of professional interests that fill his time. Each aspect of his work satisfies a "different part" of his soul. As a writer, Fong enjoys the opportunity to create new worlds and characters to explore themes and truths he believes the world is incredibly hungry for. As a producer, Fong says he has an opportunity to put the pieces of the creative puzzle together, drawing from his background in business and law, to build something that is larger than the sum of the parts. As a director, Fong exercises creative leadership and collaborates with other creatives. 
 
"And as an actor," he continues, "I get the opportunity to become a part of the story itself. And getting to do all of these for a living is an amazing gift. I get to work with incredibly talented artists to communicate stories designed to slip past the skepticism and cynicism that most people carry these days. I get to watch the light come on when those truths hit home. I get the honor of playing a role in feeding people's souls."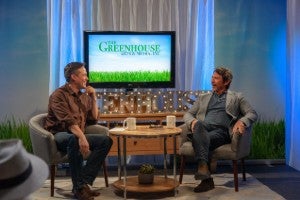 Fong is also passionate about education and the important role it plays in the lives of those seeking a long-term career in the entertainment industry. In addition to the courses he teaches at Lipscomb, Fong has taught classes on mass media and entertainment law, film distribution and marketing, and negotiating strategies for graduate and undergraduate programs at a number of universities, including Creighton University, John Paul the Great Catholic University and Regent University.
"The various disciplines in the entertainment industry demonstrate how entertainment is both an art and a science. These disciplines are in a constant state of change and growth as technology breaks new barriers, as creative and aesthetic trends ebb and flow and as the entertainment business model is modified and encounters new players over time," he explains. 
 
"In order to be truly effective in the entertainment industry, an individual must be well versed in all of these areas. In the years that I have been in the entertainment industry as a professional, I have seen over and over again that the individuals who invest the time and discipline into obtaining an education are the ones who are most prepared to tackle this complex industry and who move forward in their careers as a result."
 
Fong has a particular heart for faith-based education and says he was particularly drawn to the opportunity to be a part of the program at Lipscomb. A statement by J.J. Abrams, the writer, director and producer of many well known films and television shows, including Lost, Alias, Star Trek, Mission: Impossible, and the most recent Star Wars films, made a profound impact on Fong. 
 
"Abrams once said, 'I find that it's hard to fully examine one's life and not have faith be part of the discussion.' For my part, having a faith-based education and continuing to teach at faith-based universities has given me the opportunity to wrestle with the practical, day-to-day aspects of our walk with God," says Fong, who has an undergraduate degree from Creighton University. "It has challenged me to dispose of the false dichotomy between what our culture calls the secular and the sacred, along with the mistaken values that we assign to each. It has given me the opportunity to explore the intersection of creativity, artistry, leadership and faith." 
 
"We were created by God to be whole people, and in order to do so, we must recognize that our relationship with Him permeates everything we do, every area of life," he continues. "That relationship is not some separate thing that we address only on Sunday mornings; it is a living part of our educations, our careers, our families and everything else. I so appreciate that Lipscomb recognizes this and proactively incorporates it into the college experience."
 
Follow Fong at www.instagram.com/shunleefong/ and www.facebook.com/shunlee or connect with him at shunlee@greenhouseproductions.com.
Want to know more about Lipscomb Online's entertainment management program as well as its other degree programs? Visit www.lipscomb.edu/online.