First BAM323 conference to inspire, educate and equip Kingdom-minded businesses
The full-day event hosted by the Center for Business as Mission at Lipscomb University will integrate faith and commerce with national and international speakers and attendees
Cate Zenzen |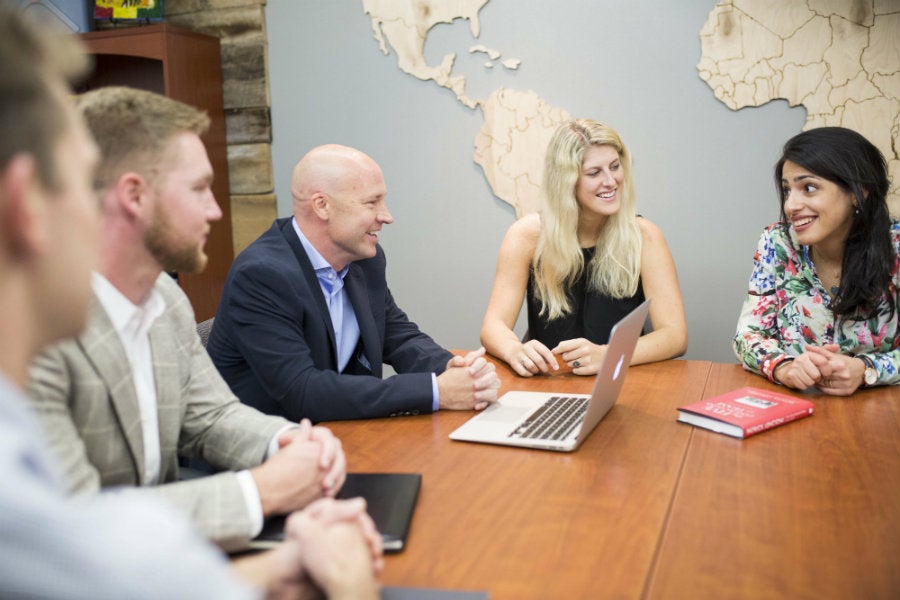 The Center for Business as Mission in the Lipscomb University College of Business will host its first BAM323 Conference on Tuesday, Sept. 17. The event will be a full day of speakers, pitch opportunities and awards to honor, equip, and inspire the community of Nashville and beyond. 
The title of the event is derived from Colossians 3:23, the core verse for the center. Written by the apostle Paul, a tentmaker who was perhaps one of the first true business as mission practitioners, the verse reminds us that hard work on earth also serves our Heavenly Master, says Rob Touchstone, director of the Center for Business as Mission. He said the day's speakers, both local and international, will share their experiences in how to live out this higher calling in the workplace. 
Conference attendees will represent a variety of fields, but the day is split into four separate tracts to cater to specific target audiences. One section is for business leaders to seek opportunities to live out their faith and influence in the workplace. Another is for entrepreneurs to gain tools on how to turn a missional idea into reality. The third section is to encourage church leaders who want to think beyond short-term mission. These speakers will answer the question of how the church can be engaged in economic development within their community, and how to address the root cause of an issue. Finally, those who consider themselves impact investors will be challenged to think of how to invest their money in faith-based companies, referred to as "Kingdom return on investment."
"We feel like this is a great opportunity to inspire, educate, and equip our audience," said Touchstone. "We want them to have their hearts moved and their toolbox filled, and we also want them to feel connected to Lipscomb, to build a bridge with the community and to be a leading resource for them." 
Already the Center for Business as Mission has forged invaluable relationships with other institutions. One such partnership was established about two years ago with Heritage Christian University in Accra, Ghana. Through video communication, Touchstone and his colleagues taught start-up principles to the business professors at HCC, who in turn educated their own students. A group of pupils from HCC then applied the methods to start a business that turns human waste into sanitary and environmentally-friendly charcoal. Their venture won the Grand Prize in the Global Social Innovation Challenge in 2018.
HCC representative Alexander Asmah will be attending the BAM323 conference and will present on behalf of his students in the Bison BAM Pitch event at the end of the day Tuesday. Representatives from five local social enterprises will also pitch on behalf of their businesses, including a recent Lipscomb graduate. This portion of the day will allow the audience to see and hear BAM in action, and also expose the companies to potential investors, employees and customers. 
The conference will conclude with a closing address by Governor Bill Lee and the presentation of awards to honor the social enterprises and missional businesses who have put business as mission into practice. 
The College of Business is excited to host such an event, as it has great significance in any career or vocation. 
"BAM is a movement that is more than ever relevant to our times, our society and to the church. It is impactful, and obviously popular based on our first conference response," said Ray Eldridge, dean of the College of Business. "We are committed to being the higher education thought leader on this topic and serve as a convenor of a diverse group to increase awareness, share best practices and to further the use of business to grow the kingdom."
Described by Touchstone as "the holy collision of commerce and faith," the Center for Business as Mission in the Lipscomb University College of Business is a resource for students and professionals to integrate their faith and career. The center is taking new applicants for the BAM Fellowship program, an opportunity for students to participate in academic training, experiential learning, mentoring, service opportunities and a global learning experience, all centered around the idea of faith in action. 
Want to know more about the Center for BAM and the BAM fellowship program?
For more information on BAM323, a schedule of events and list of speakers click here.