Community to celebrate graduates at spring commencement May 4
Saturday, May 4, will be a day of celebration and excitement as the Lipscomb community comes together for spring commencement.

Kim Chaudoin |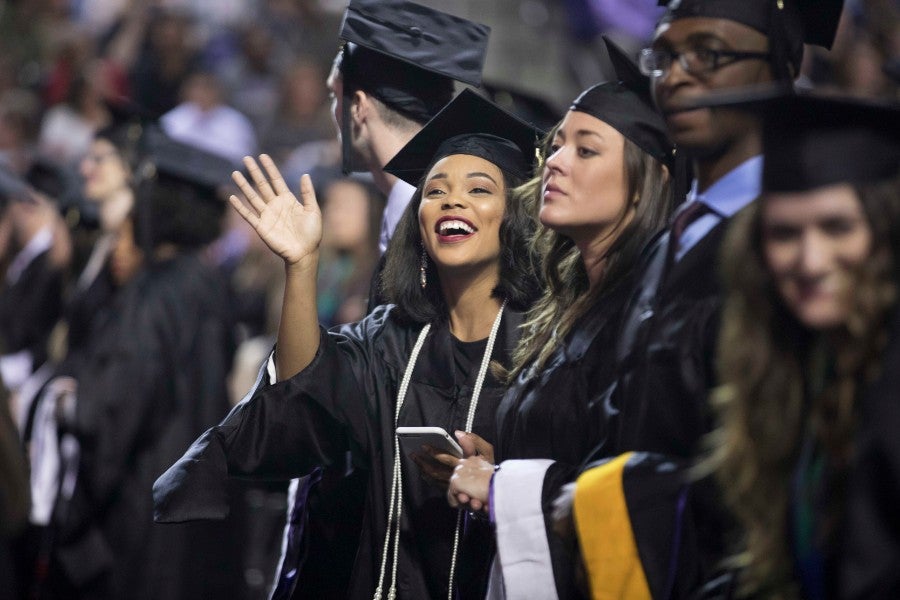 While more than 940 students will receive diplomas to mark the completion of a journey, in the truest meaning of the word "commencement" it is also a day to celebrate new beginnings. 
Commencement for graduate students begins at 10:30 a.m. and for undergraduate students at 3 p.m. in Allen Arena Saturday. But the celebration begins on Friday, May 3, which is filled with ceremonies and activities leading up to Saturday's conferring of degrees. The undergraduate provost's breakfast, various college awards luncheons and dinners as well as the traditional nursing pinning ceremony are among the day's activities.
On Friday, May 3, seven students who are part of Lipscomb's IDEAL (Igniting the Dream of Education and Access) program, will receive their certificates in career exploration studies. The students are the fifth IDEAL program cohort to earn these certificates. The ceremony will take place in Stowe Hall, located in Swang Business Center. 
IDEAL is a two-year certificate program that provides education and workplace training to students with intellectual and/or developmental disabilities. It is housed in the College of Education and accredited by the Southern Association of Colleges and Schools. Launched in January 2014, the IDEAL program includes academic and skill-building classes, exercise sessions, daily internships, leisure time and a daily study period.
 
A baccalaureate worship service for graduating undergraduate students will be held at 4:30 p.m. Friday in Collins Alumni Auditorium. Following the service, a reception will be held in Bison Square.
Saturday, May 4 activities
The Lipscomb community will gather Saturday, May 4, to celebrate the official end of the 2018-19 academic year and significant milestones in the educational journeys of more than 940 undergraduate and graduate students, which includes May and August graduates.
Festivities begin at 10:30 a.m. in Allen Arena with the doctoral and graduate commencement. Phil Pfeffer, CEO-in-residence in the College of Business, will give the invocation while Reva Chatman-Buckley, associate professor of education, will give the professional charge. Lipscomb President L. Randolph Lowry will also address the graduates.
Undergraduate degrees will be conferred at a commencement beginning at 3 p.m. in Allen Arena. Lowry will give a charge to the graduates as well as Linda Peek Schacht, associate professor of communication and political science, who will deliver the professional charge. 
A reception honoring all graduates will take place from 12:30-2:30 p.m. in the Student Activities Center located adjacent to Allen Arena. Families and friends of the graduates are invited to attend the reception.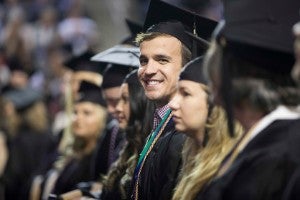 Both ceremonies may be watched live online at live.lipscomb.edu. The undergraduate ceremony will also be streamed live on Facebook at www.facebook.com/lipscombuniversity.
Schedule of Activities
Friday, May 3
8:30 a.m. — Undergraduate Provost's Breakfast, Bison Café
9 a.m. — College of Pharmacy recognition ceremony and reception, Collins Alumni Auditorium
10 a.m. — Undergraduate rehearsal, Allen Arena
Noon — School of Nursing pinning ceremony, Collins Alumni Auditorium
3 p.m. — IDEAL graduation and reception, Stowe Hall
4:30 p.m. — Undergraduate baccalaureate worship service, Collins Alumni Auditorium. A reception will follow in Bison Square.
5:30 p.m. — College of Business master's graduate hooding
Saturday, May 4
8 a.m. — Graduate commencement rehearsal, Allen Arena
10:30 a.m. — Graduate commencement ceremony, Allen Arena (doors open at 9:30 a.m.)
12:30-2:30 p.m. — Reception for all graduates, Student Activities Center
3 p.m. — Undergraduate commencement ceremony, Allen Arena (doors open at 2 p.m.)
For more information about graduation events call 615.966.6083 or click here.