Brenner takes 5000m ASUN title, qualifies for NCAA post-season
The 2019 ASUN Outdoor Track and Field Championships have come to a close, and the Lipscomb Bisons earned a number of podium appearances as well as a conference title for Courtney Brenner.
Logan Butts |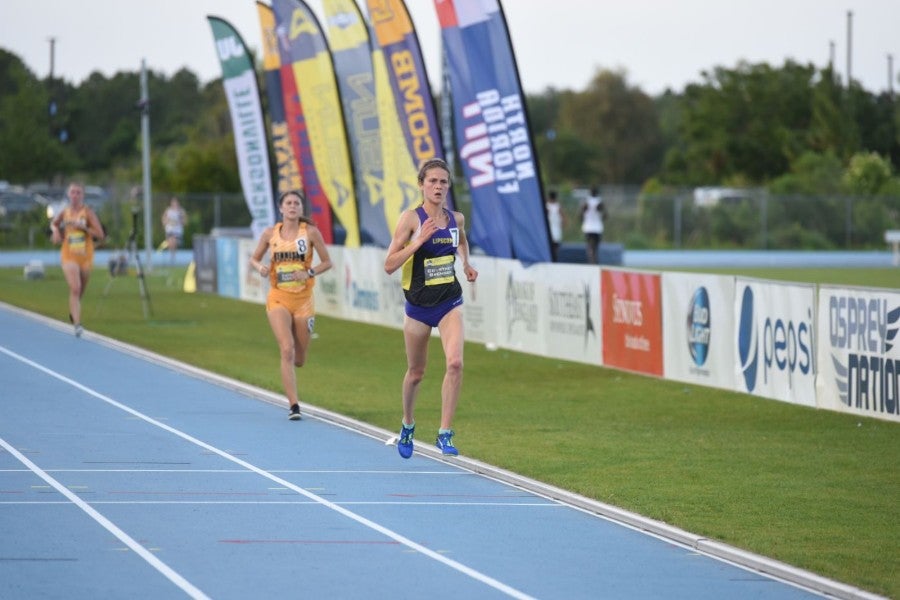 Brenner defended her crown in the 5000m, earning the first-place finish with a time of 16:51.01. The win is her fifth overall conference championship of her career and her second for outdoor.
Sophomore Kayla Rudie (17:38.61) and junior Grace Oetting (17:51.78) also earned points in the event in fourth and fifth.
"Courtney had another great championship," Lipscomb Director of Track and Field Bill Taylor said. "She is such a strong competitor and a really smart racer. This was a nice set up for National Prelims in two weeks. Kayla and Grace also ran tough in that 5000m race."
Sophomore Jonathan Imes grabbed second place in the 400m with a time of 46.63 seconds, which bested the previous ASUN Championship record.
"Jonathan Imes ran basically a perfect 400m race," Taylor said. "He set a new personal best and school record and posted a time that should qualify for the National Prelims."
 
Junior Randolph Wilkerson also earned a second-place finish in the 400m hurdle with a blazing time of 53.08 seconds.
 
"Dolph Wilkerson had a terrific 400m hurdles race," Taylor said. "His second place finish earned him All-ASUN honors and he set a new personal best."
Sophomore Jacob Snyder nearly joined Wilkerson on the podium, placing fourth in 53.89 seconds. Synder also placed fifth in the javelin throw at 45.73m
Junior Zach Israel placed second in the 1500m thanks to a time of 3:55.66. He also finished fourth in the 5000m with a 15:27.28 mark.
"Zach Israel ran well for his second place finish," Taylor said. "He was really close to winning the race."
Sophomore Grant Mason earned a third-place spot in the 100m dash with a speedy 10.54-second time. He also grabbed fourth in the 200m dash in 21.25 seconds.
"Grant Mason got an all-time personal best in the 100m and picked up All-ASUN honors," Taylor said. "He also ran his all-time personal best in the 200m."
Mason, Wilkerson, Imes, and freshman Demontae Wilson led Lipscomb to a second place finish in the 4x100m relay (40.71 seconds), bested barely by an ASUN-record mark from Kennesaw State.
Wilson, Imes, senior Ryan Speer, and junior Nathan Morgan finished third in the 4x400m relay in 3:14.29.
"Both men's relays fought hard for All-ASUN honors," Taylor said. "It's always fun to see a team work together for something they can share in."
Speer earned another point by placing fifth in the 800m in 1:54.82.
Freshman Taylor Edmundson earned fifth in the 400m hurdles in 1:03.51.
"Taylor Edmondson had another strong 400m hurdles race," Taylor said. "She broke her own school record that she just set last week."
As a whole, the men finished with 64 total points to place fourth while the women were in fifth with 23 total points.
"Overall it was a solid championship for us," Taylor said. "Not our best, yet some great performances. I think the returners learned a lot and will be motivated for the future. It will be fun to get back down here in less than two weeks to see Courtney and Jonathan compete in the National Prelims."
NEXT UP:
Brenner and Imes have qualified for the NCAA East Region Preliminaries, which will begin on May 23 and will also take place in Jacksonville.