Bisons historic season comes to an end in NIT Final
The Lipscomb men's basketball team carried its season as far as it could go.
Logan Butts | Lipscomb Athletics |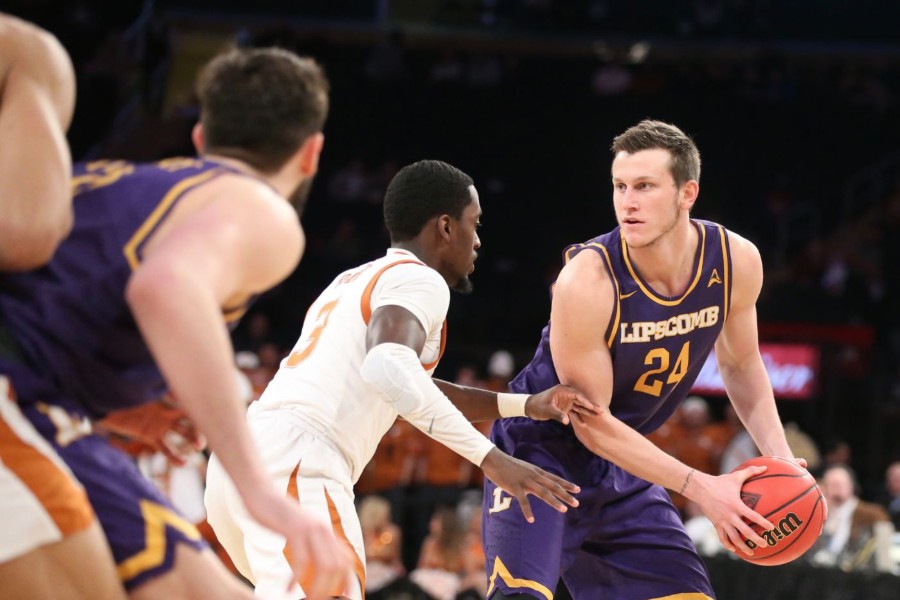 The Bisons fell 81-66 to Texas in the NIT championship game on Thursday night in Madison Square Garden, ending a memorable tournament run and a historic season.
After winning three consecutive road games and an electrifying semifinal in New York City, Lipscomb (29-8) ran out of gas in the title game.
Texas (21-16) was hot from three-point range all night, draining 13 shots from behind the arc.
Senior Rob Marberry carried the Bisons offense early on, notching the team's first six points. He finished with a team-high 17 points on 7-12 shooting in his final game for Lipscomb.
Fellow senior Garrison Mathews struggled to get it going from the field (2-10), but still ended up with 15 points thanks to a stellar 10-10 mark from the free throw line. He also tied for the team lead with eight rebounds.
Redshirt-freshman Ahsan Asadullah was a spark plug off the Bison bench, scoring 11 points on 5-7 shooting and grabbing three rebounds.
A 22-5 Texas run to tend the half gave the Longhorns a 41-27 halftime lead.
The Bisons were able to trim the Longhorns lead down to seven early in the second half thanks to a 7-0 run capped by a three-pointer from senior Nate Moran.
However, Texas responded with a number of big shots to break the game open late in the game.
Junior Michael Buckland tied Mathews for the team lead with eight rebounds and dished out a team-high five assists.
Marberry, Mathews, Moran, Matt Rose and Eli Pepper played their final games in the Purple and Gold after a memorable stint with the Bisons.
The senior class finishes with the most wins for a career and in a single season in the program's Division I era. They received AP top-25 votes for the first time ever, knocked off a ranked team for the first time, and made the program's first trip to the NCAA Tournament in 2018.
HERD NOTES:
Texas was paced by 19 from Dylan Osetkowski. Kerwin Roach II (16), Jase Febres (13), and Matt Coleman III (11) also scored in double-figures.
Lipscomb shot 17-20 from the free throw line, but just 22-56 from the field and 5-17 from three-point range.
Texas grabbed just one more rebound than Lipscomb (37-36). They handed out 23 assists to Lipscomb's 20.
Both teams produced 27 bench points.
Pepper was handed a technical foul in the first half.
The Bisons are now 0-3 vs Texas. They are 1-1 against Big 12 teams on the season after knocking off then No. 18 TCU on the road in November.
The runner up finish is the highest an ASUN team has ever placed in the NIT.
Marberry and Mathews were named to the All-Tournament team.