Biology alum takes part in NCAA football national championship season
As part of a prestigious sports medicine fellowship, Dr. Zach Pharr was on the sidelines throughout the 2021 title-winning season for the Alabama football team.
Logan Butts |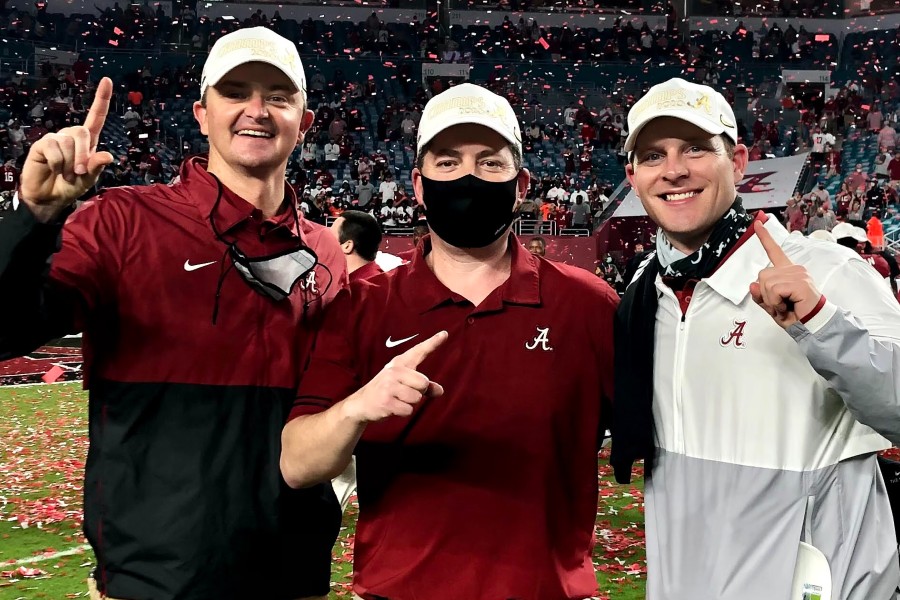 On the night of Jan. 11, Dr. Zach Pharr ('10) found himself in a uniquely high-stakes situation. It was the second half of the 2021 College Football Playoff National Championship game and Devonta Smith, the University of Alabama's Heisman Trophy-winning wide receiver fresh off a record-setting first-half performance, had suffered an injury. 
Nineteen million people across the country watched anxiously as Pharr, alongside Dr. Lyle Cain, worked diligently on Smith's finger in the medical tent on the Crimson Tide sideline. 
Luckily Pharr was prepared for the moment thanks to years of hard work and training, including his time spent earning an undergraduate degree as a biology student at Lipscomb University. 
"I want to give much appreciation to Lipscomb University and all the faculty that helped me get to where I am now," Pharr said. "The biology department was incredible. People like Dr. Phil Choate, Dr. Kent Gallagher, Dr. Jon Lowrance,  Dr. Jim Arnett, Dr. Beth Conway, all of them were super inspirational and really helped me to get into medical school."
Birmingham, Alabama's renowned Andrews Sports Medicine & Orthopedic Center teams up with the American Sports Medicine Institute every year on a fellowship program designed to allow educational opportunities for young and aspiring professionals in the field. 
"If you're not familiar with James Andrews, you mention anything in orthopedic sports medicine in any kind of athletic community or medical community, he's one of the first names that'll get brought up," Pharr said. "So Andrew Sports Medicine was the place that I wanted to go to do my subspecialty training. And fortunately, they were willing to accept me during the interview process, so I've been just pumped to be here and have learned a ton."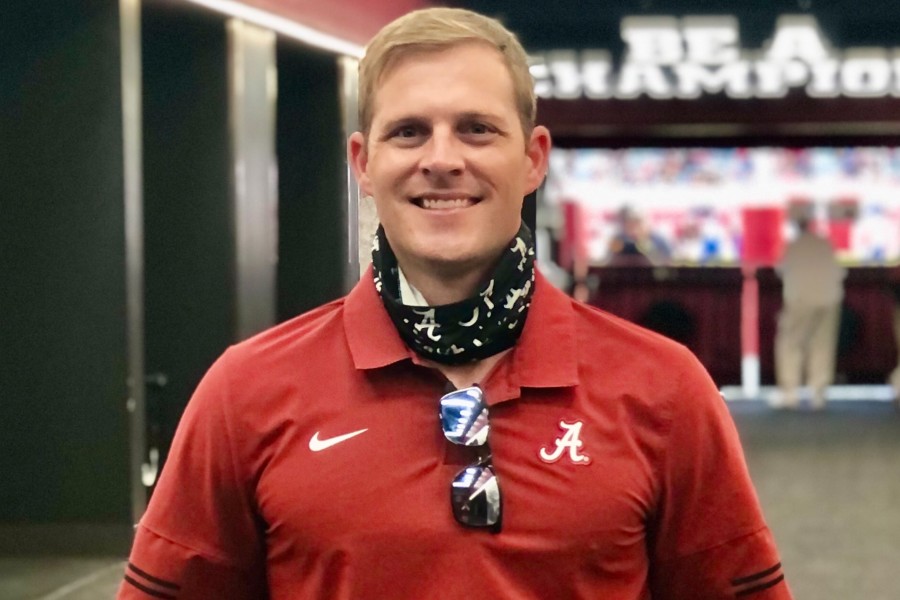 Each year one of the program's fellows is assigned to work side by side with the team physicians for the University of Alabama football program, which is how Pharr found himself with a season-long front row seat to one of the greatest teams in college football history. 
"It was an amazing journey throughout the whole year," Pharr said. "It was really cool to see how the inside of the Nick Saban football program ran, being with him in the locker room, getting to know the players, and just seeing how hard they worked." 
Pharr grew up in Brentwood, Tennessee, the youngest in a family with five kids where he became familiar with the Lipscomb community. He was also no stranger to the athletics world as a multi-sport athlete at Lipscomb Academy, from which he graduated in 2007, and eventually as a walk-on with the Lipscomb University golf program under then-head coach Buddy Harston. 
"That was one of the main reasons why I ended up there, in addition to just knowing the culture, knowing the Christian values, and knowing it was a place that I'd be able to thrive with my education," Pharr said. 
Following his time at Lipscomb, Pharr and his wife Kayla Hensley ('11) Pharr, also a Lipscomb graduate, headed to Memphis to attend medical school at the University of Tennessee College of Medicine. Three hours away, a community of Bisons awaited the Pharrs, making their first move out of middle Tennessee a smoother transition. 
"On top of knowing I'd get a good education, I also had a lot of people that were there from Lipscomb that I knew would be kind of support for me and my wife being in a new city," Pharr said. "Just having people with a similar Christian background and that would be able to support us while we were there."
After medical school came the stint in the fellowship program at Andrews. Pharr has been able to learn from and work alongside some of the best in the sports medicine field while viewing the inside of a college football dynasty, all during a global pandemic which made the job of a team physician that much more important. It was truly a once-in-a-lifetime experience. 
As part of the medical team, Pharr was included in the weekly COVID-19 protocols testing that allowed the Crimson Tide to safely take the field. Each week, Pharr would either fly out to the game with Cain and Dr. Norman Waldrop, the team physicians, or drive down from Birmingham to Tuscaloosa for home contests. Once a month, they would also see the players in their training room. 
Pharr and his colleagues would deal with everything from routine week-to-week maintenance to splinting an ankle fracture prior to sending a player off to surgery, as he did for star wide receiver Jaylen Waddle during a late October outing against Tennessee. The list of experiences could go on forever. 
"I'm not sure if there's any other place in the country that can replicate what it's like to be a team physician like Dr. Lyle Cain does here at Andrews," Pharr said. "It's something that requires availability at all times, it's something that requires really an enjoyment of sports frankly. You have to enjoy spending time on the sidelines. You have to enjoy being around players, dealing with coaches, and dealing with high stakes. 
"I saw how we can use technology to quicken return to play, how we can manage in-game injuries, keeping them safe but also keeping them comfortable, to get them back into the game. And really a multitude of other things that have helped me be in a much better position when it comes to sports medicine."
And outside of the invaluable sports medicine experience, Pharr had the added benefit of seeing one of the winningest college football programs of all time from the inside. 
"I think one of the reasons why they were so successful was because they didn't seem to have too many egos on the team," Pharr said. "All the leaders had high-quality character and attitudes. And I think that set the precedent for the whole team. They never seem to have any disarray in the locker room. That's one of the things that was probably really cool to see at a place like that."
Now that his time in Alabama is coming to a close, Pharr is ready to take everything he's learned back to middle Tennessee. He is set to join the Mid-Tennessee Bone and Joint Clinic in Columbia., a place that he felt matched exactly what he was looking for. 
"I knew I wanted to be with a group that had Christian men and high-quality partners," Pharr said. "I actually have two partners in that group that both went to Lipscomb University, so we come from a similar tree, and I just cannot be excited enough to get back and practice there."