Presidential Inauguration Week
Monday, March 28, 2022 8:30 AM-Wednesday, March 30, 2022 5:00 PM
Lipscomb's Campus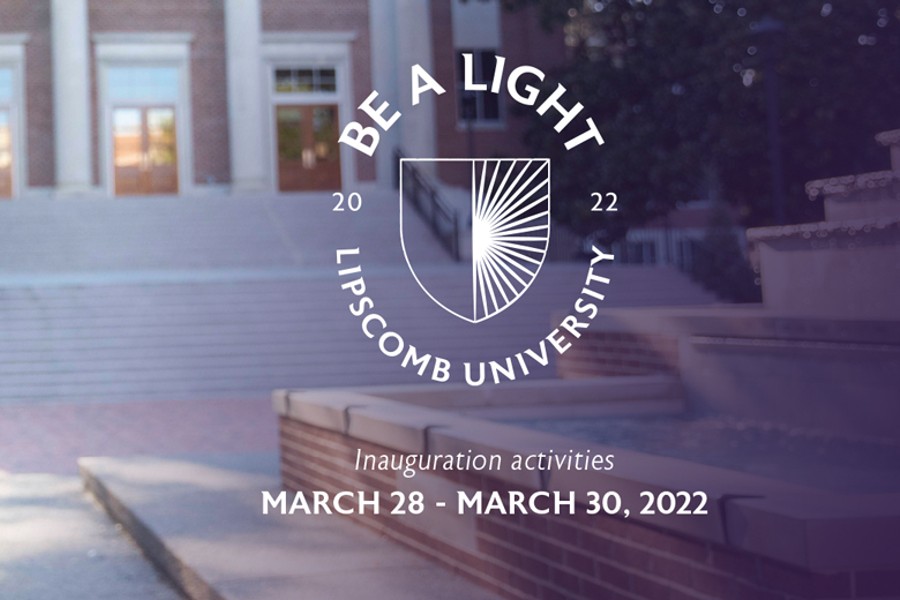 Join us in celebrating the official start of Dr. Candice McQueen's administration with a series of activities and events during Inauguration Week, March 28-30! The Inauguration theme is "Be A Light." 
Students, faculty, staff, and alumni, along with many from the Nashville community and dignitaries from government, universities, churches, and other organizations from across the country will join us. Events will include: 
an academic symposium that will examine how to "Be A Light" in business, education, the public square, healthcare, entertainment and more;    
a campus showcase that will highlight a variety of some of the unique and fascinating features at Lipscomb;  
a block party for the entire Lipscomb family - students, employees and their families, alumni, plus neighbors & friends - featuring food, live music, games, inflatables and lots of fun for all ages; 
a special Inauguration Tokens Show that will focus on the past, present and future of Lipscomb; 
a service project led by our students who will truly "Be A Light!" in the Nashville community;
a prayer breakfast - focusing our eyes on God as we look forward to Lipscomb's future;
and the highlight of the week - the formal inauguration ceremony on Tuesday, March 29, in Allen Arena. 
Full Schedule: 
Monday, March 28
All guests are welcome to attend all inaugural activities on Monday. 
Symposium
The symposium, "How to Be A Light in Today's World," consists of several events, lectures and panel discussions on how to elevate our faith in our diverse areas of service and work. Topics will explore "being a light" in business, healthcare, entertainment, education and the public square.
8:30 a.m. - 9:30 a.m. Breakfast and Welcome - Shinn Center
9:30 a.m. - 10:30 a.m. "Be A Light in the Public Square" - Shinn Center
10:45 a.m. - 11:45 a.m. Panels: Education, Business, Health Care - various locations
12:00 p.m. - 1:30 p.m. Symposium Luncheon - Shinn Center
Campus Showcase
Many of Lipscomb's standout colleges, schools and programs highlight their facilities and stories in the Campus Showcase. Happening concurrently, guests can visit Campus Showcase locations for brief presentations and demonstrations, as well as an opportunity to talk to faculty and students.
A Campus Showcase Guidebook is available at Bennett Campus Center during registration.
1:30 p.m. - 3:00 p.m. various locations across campus
Inauguration Block Party
A festive atmosphere, celebrating the incredible Lipscomb University and Academy community. Food and activities accentuate fellowship, as the Lipscomb faculty, staff, students, alumni, Nashville community, local neighbors and friends gather together.
3:30 p.m. - 5:30 p.m. - Allen Arena Mall
Worship and Prayer on the Steps of Collins
A special time for our community to gather in Bison Square and on the steps of Collins to worship and pray for President McQueen and her family.
5:30 p.m. - 6:00 p.m. - Bison Square and the Steps of Collins Alumni Auditorium
Special Event: Lipscomb Past, Present, Future
This special show features the compelling vision of David Lipscomb and James A. Harding, still strong and compelling 130 years later. Special guests to be announced. Tokens Show, the Nashville-based variety show, is hosted by Lee Camp, Lipscomb University Professor of Theology & Ethics.
6:30 p.m. - 8:00 p.m. Tokens Show, "In A Different Light: Lipscomb Past, Present, Future" Collins Alumni Auditorium
---
Tuesday, March 29
Prayer Breakfast
An appropriate beginning to an important day. Guests from all faith backgrounds and the diversity within our community will join Dr. Candice McQueen, trustees, university leadership, ministers and others from the community to bring Lipscomb before the Lord in prayer.
7:30 a.m. - 8:30 a.m. by invitation
Inauguration Ceremony
The formal installation ceremony of Lipscomb's 18th president, Dr. Candice McQueen. An inspiring and memorable experience in Allen Arena. Open to all guests, the ceremony will include delegates from universities, organizations, members of the board of trustees, faculty, staff, students, alumni and members of the Nashville community.
10:30 a.m. - 12:00 p.m. all guests are welcome
Inauguration Luncheon and Campus Showcase
Following the formal ceremony, all guests are invited to attend a luncheon. The luncheon will be located in various places around campus. Concurrently, the Campus Showcase will take place and food will be available near the showcase locations.
12:30 p.m. - 2:00 p.m. all guests are welcome
12:30 p.m. - 2:00 p.m. Campus Showcase - various locations across campus
Inauguration Celebration
An evening dinner and program. Special guests join university leadership and trustees for a celebration of the inauguration and the vision for Lipscomb's future.
6:30 p.m. - 9:00 p.m. by invitation
---
Wednesday, March 30
Mustang Alumni Awards Luncheon
Lipscomb Academy leadership, trustees and guests recognize this year's alumni honorees at a special luncheon.
Other Special Events: TBD
Visit our special inauguration website for the latest information.