Imagine 2021
Tuesday, April 27, 2021 7:00 PM-9:00 PM
Virtual - See below for event link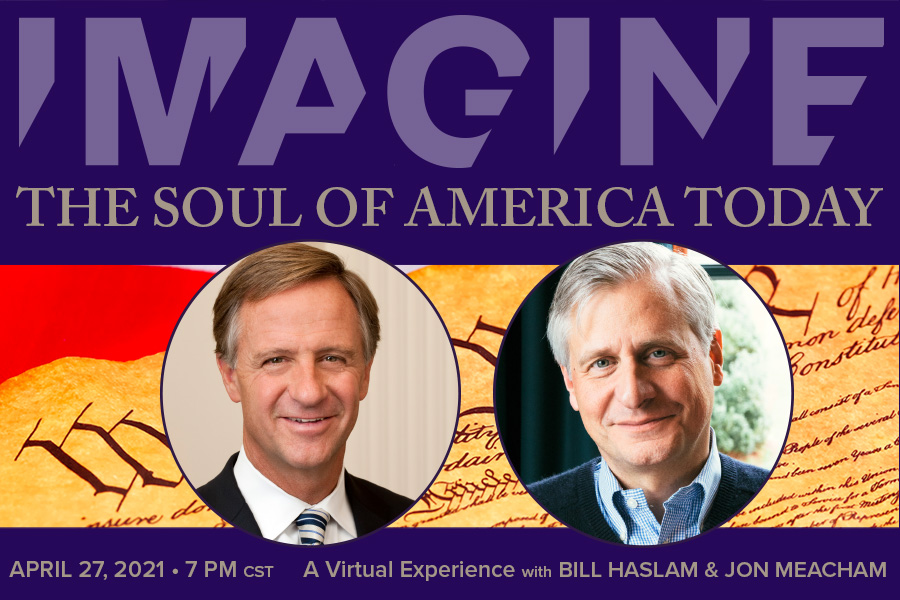 Lipscomb University is offering an evening of renewed hope, revitalized confidence and energized belief in the enduring principles that move our nation forward through an examination of "The Soul of America" as part of its IMAGINE 2021 event on Tuesday, April 27. IMAGINE is designed to engage the Nashville community in conversations of significance by bringing renowned leaders to the city to participate in dialogue about topics of local and national importance. 
IMAGINE 2021 will feature 
IMAGINE 2021 begins at 7 p.m. CDT. This year's event will be virtual and is open to the public. The event is free, but registration is required. 
"This year's conversation is based on Jon Meacham's bestseller The Soul of America. This community and this country are at critical junctures, and in his book Meacham uses a historical perspective that helps audiences understand the present moment in America today," said John Lowry, senior vice president for advancement. "Innovative leaders today need to have the ability to look at problems differently and develop solutions that others cannot. By engaging in dialogue that provides hope and examines where we are today as a society, how we got here and where we are heading, we are equipping leaders to make a greater impact not only in their organizations but also in their communities. My hope is that everyone will leave this event inspired with renewed hope, revitalized confidence and energized belief in the enduring principles that move our nation forward."
"We are also excited to have MercyMe join us for this very special evening," he continued. "They will definitely enhance this conversation with their inspirational music and passion for what we are seeking to accomplish with this conversation. It is an honor for them to join us."
This marks the fifth year for the IMAGINE initiative. In 2016, Lipscomb launched its IMAGINE initiative to convene conversations of significance that bring leaders from around the world to Nashville to engage the community in topics of local and national importance and to share their stories and unique perspectives. President George W. Bush was the featured guest in February 2016 for the inaugural IMAGINE convening. Magic and Cookie Johnson led a discussion of "Nashville" Prosperity for All Corners of the City" in 2017 through which the Lipscomb community examined the ideas of faith, redemption, entrepreneurship and community transformation. In 2018 author and journalist Tom Brokaw examined the power of telling Nashville's story, and in 2019 former Aspen Institute CEO, author and journalist Walter Isaacson examined the theme of leadership in innovation. The 2020 event was postponed due to the COVID-19 pandemic. 
For information about IMAGINE 2021, contact Amanda Martin at amanda.martin@lipscomb.edu or call 615.966.1962.
---
Accessing the Broadcast Recording
The link below will take you to JoinIn, the platform hosting the April 27 IMAGINE presentation. You will be prompted to enter your email address to access the event recording. The recording will be available for viewing until May 4, 2021.
Technical Support
If you have trouble logging into the platform to access the event, the video isn't playing correctly or you encounter other technical issues, click the Tech Support button located at the bottom right of the JoinIn screen, and you'll be directed to a FAQ page.
If you still need support, press the Contact Tech Support button, and a pre-populated email will appear where you can submit your technical question to the tech support team, and a team member will assist you.