Financial and Tax Implications of the COVID-19 Crisis
Thursday, July 16, 2020 12:00 PM-1:00 PM
Webinar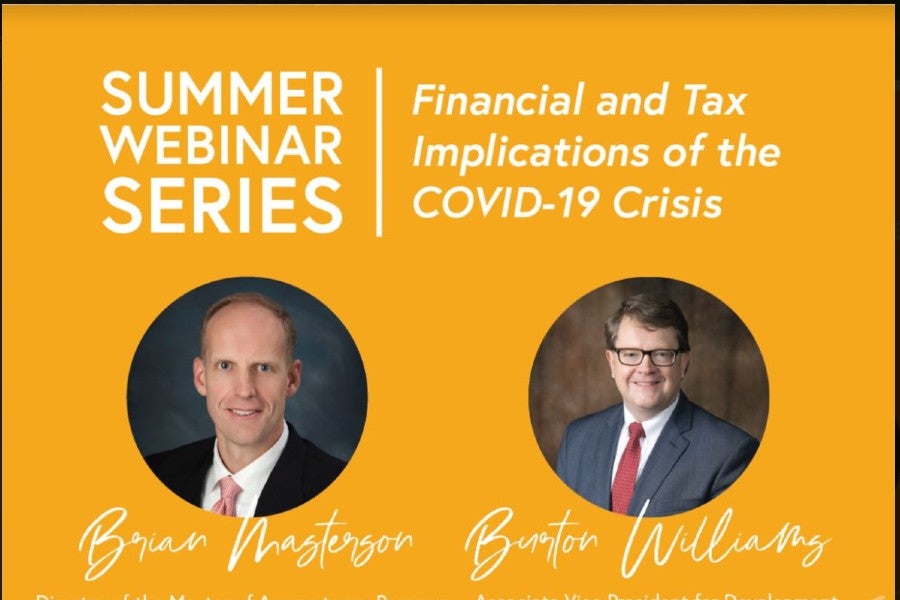 Join College of Business' Summer Webinar Series to learn about business responses in times of dramatic change. Faculty and guests will explore how current challenges are affecting our world - and how business is responding.
Each of the eight, one-hour webinar sessions will include a time for participants to submit questions, and webinar links will be sent to registrants by 9 am on the day of each session.
Financial and Tax Implications of the COVID-19 Crisis
This discussion will cover financial planning in light of the coronavirus pandemic and federal income tax planning after the CARES Act. In addition, we will cover the Paycheck Protection Program and new developments from Congress.
Brian Masterson
Director of the Master of Accountancy Program Chair, Accounting, Finance, and Economics Assistant Professor
Masterson teaches graduate tax courses in the MAcc, and he is the author of the treatise entitled Tucker on Tax Planning for Real Estate Transactions. He is a tax and transactional attorney in Butler Snow LLP's Business Services practice group resident in the Nashville office with significant experience in the areas of corporate and partnership taxation, mergers & acquisitions and real estate transactions.
Burton Williams
Associate Vice President for Development
Williams is a veteran leader in development and education with nearly 20 years of experience in administration, community engagement, academics and research. Williams holds a Doctor of Education from Lipscomb University and is a certified financial planner. He has a Master of Science in financial planning from the College for Financial Planning and a Bachelor of Business Administration in Accounting from Freed-Hardeman University.