Engineers Week 2021: Imagining Tomorrow
Thursday, February 25, 2021 6:00 PM-8:00 PM
Zoom and Facebook Live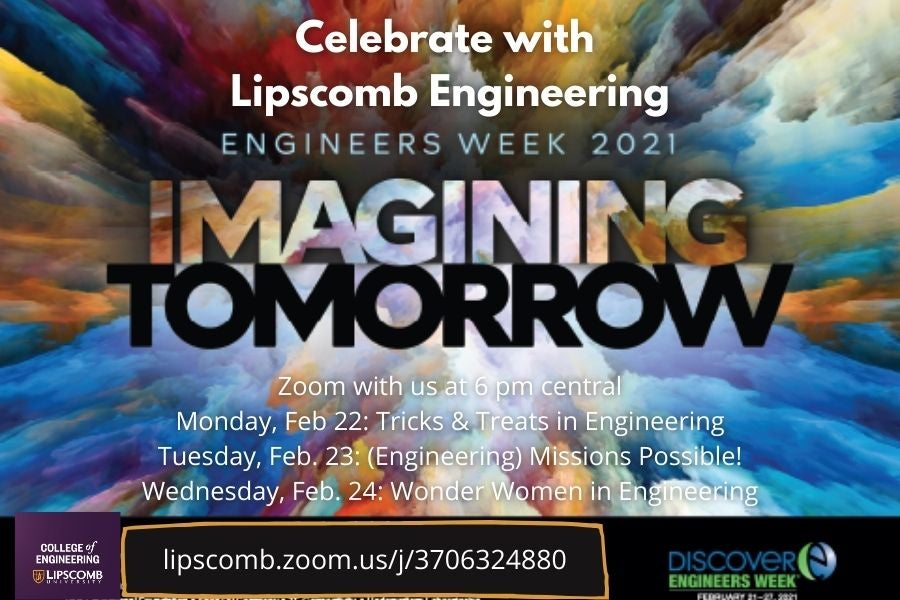 Join Lipscomb Engineering for nightly Zoom parties at 6 p.m. (CST) at https://lipscomb.zoom.us/j/3706324880 throughout National Engineering Week.
The fun starts Monday, Feb. 22 with Tricks and Treats in Engineering, an entertaining selection of games and stunts. We'll investigate circuits, robotics, and gravity-defying concrete. Play along in a "Will It Float?" challenge in our labs. 
On Tuesday, Feb. 23 learn about the Peugeot Center for Engineering Service in Developing Communities' missions programs at Engineering: Missions Possible. Travel virtually with us to several communities in need of helping (and skilled) hands. Lipscomb Engineering is home to the Peugeot Center for Engineering Service in Developing Communities, where we put the engineering skills we learn in the classroom to work helping others. Hear about our students' energy, clean water, bridge, and medical-serving projects in Central America, Africa, and here at home in Nashville.
Casey Santos, head of business process innovation, workflow and automation at Alliance Bernstein, will speak at noon on Wednesday, Feb. 24, on Zoom and in-person in Collins Auditorium, on blending the engineering design process into business strategy, as well as her personal and professional story, ranging from the moon to the matrix.
On Wednesday, Feb. 24 The Society of Women Engineers will present Wonder Women in Engineering. The Society of Women Engineers, we will celebrate the female super heroes (she-roes!) in our part of the STEM world with trivia and games.
On Thursday, Feb. 25, tune in to Lipscomb's  Day of Giving Facebook Live coverage and cheer on your favorite team in the Rocket Car Rally, this once annual engineering competition where students outfit pinewood derby cars with model rocket engines is making a comeback in 2021. Heats will happen throughout the day as the fastest cars progress through the brackets.