Conducting Workshop -- CANCELLED
Wednesday, July 15, 2020 8:00 AM-Friday, July 17, 2020 6:00 PM
McMeen Rehearsal Hall and Collins Auditorium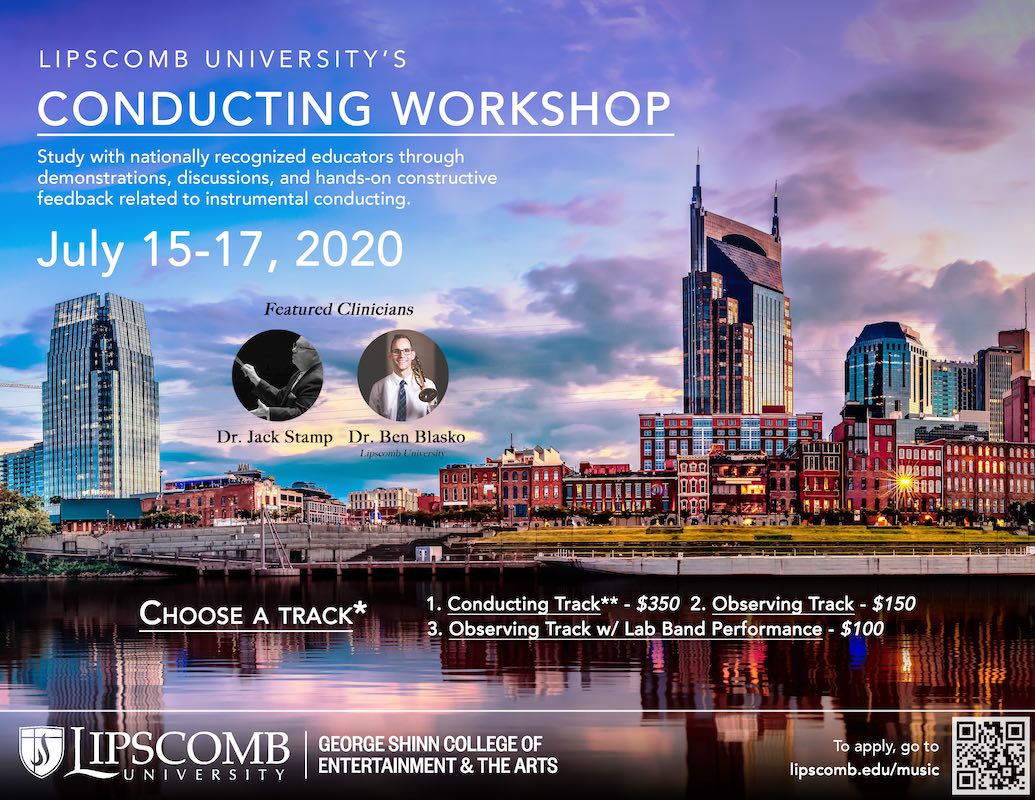 For public health reasons, we are canceling these workshops for this year. Please follow the SOM Facebook page for updates in the future.
---
Lipscomb University will host a conducting workshop on Wednesday July 15 - Friday July, 17 in McMeen Rehearsal Hall and Collins Auditorium. Join nationally recognized educators for demonstrations, discussions and hands-on constructive feedback related to instrumental conducting. 
The Lipscomb University Conducting Workshop will focus on issues that confront instrumental music educators at all levels: artistry, authenticity, technique, rehearsal strategies, repertoire, programming, and audience considerations, technology in music education, advocacy, and more. The faculty clinicians aim to strengthen and broaden participant's perspective on the craft of conducting and the art of teaching.
The event will conclude with a public performance on Friday, July 17 at 6 p.m.
Workshop clinicians include Dr. Ben Blasko, Director of Instrumental Studies at Lipscomb University and Dr. Jack Stamp.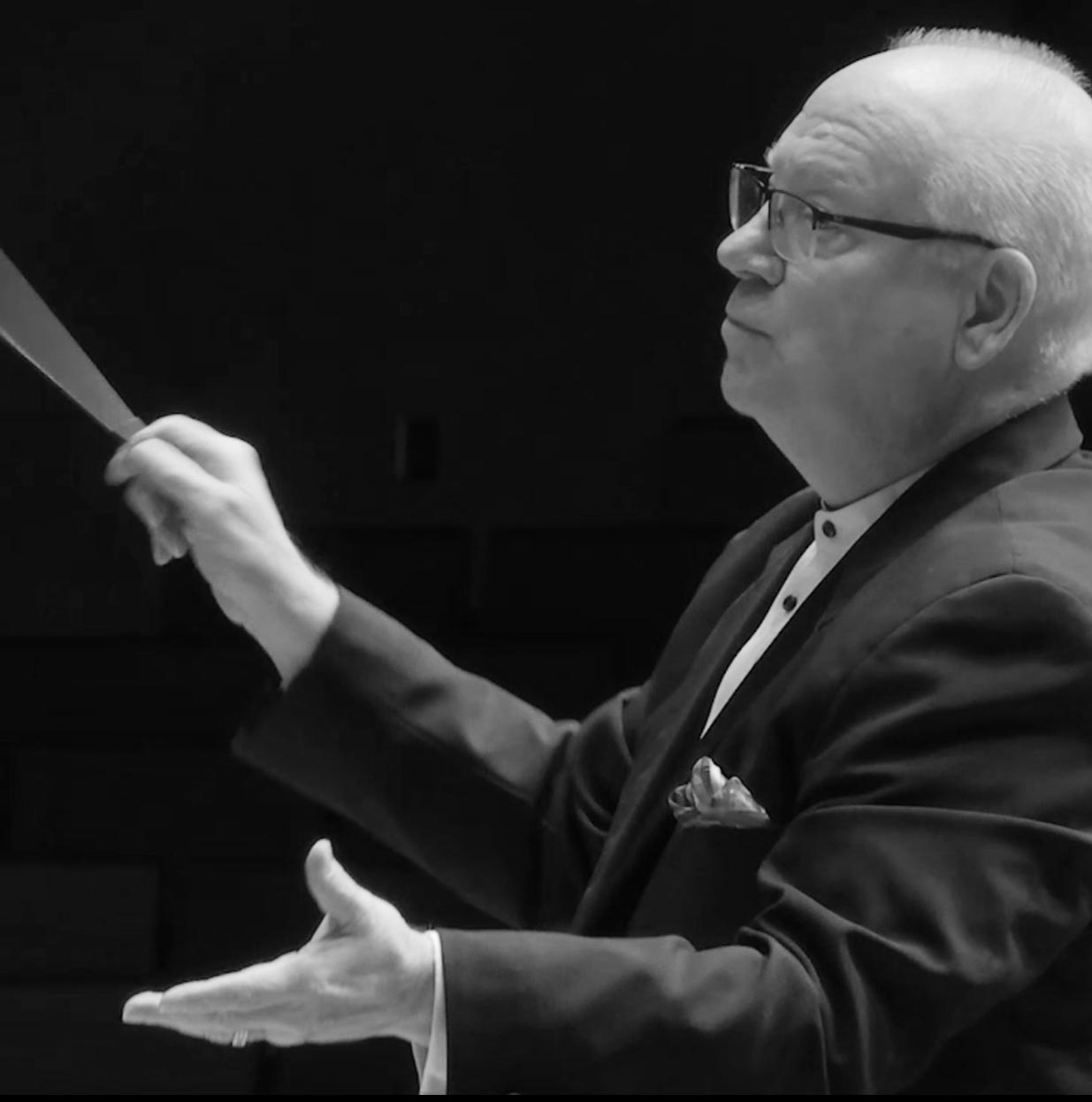 Dr. Jack Stamp served as Director of Band Studies at Indiana University of Pennsylvania for 25 years. In addition, he served as chairperson of the music department for six years. He holds a DMA degree in Wind Conducting from Michigan State University where he studied with Eugene Corporon. He resides in Hudson, WI with his wife, LeAnn.

PAST APPOINTMENTS
Prior to his retirement from IUP, he served as chairman of the Division of Fine Arts at Campbell University in North Carolina. He also taught for several years in the public schools of North Carolina. In addition to these posts, Dr. Stamp served as conductor of the Duke University Wind Symphony (1988-89) and was musical director of the Triangle British Brass Band, leading them to a national brass band championship in 1989. 

PAST TEACHERS
Dr. Stamp's primary composition teachers have been Robert Washburn and Fisher Tull, though he was strongly influenced by his music theory teachers at Indiana University of Pennsylvania and East Carolina. Other studies include work with noted American composers David Diamond, Joan Tower and Richard Danielpour. 

CONDUCTING & COMPOSITIONS
He is active as a guest conductor, clinician, adjudicator, and composer throughout North America and Great Britain. His compositions have been commissioned and performed by leading military and university bands across the United States. He has won the praise of American composers David Diamond, Norman Dello Joio, Ron Nelson, Michael Torke, Samuel Adler, Robert Ward, Robert Washburn, Fisher Tull, Nancy Galbraith and Bruce Yurko for performances of their works. He is also a contributing author to the "Teaching Music Through Performance in Band" series released by GIA Publications. 

KEYSTONE WIND ENSEMBLE
He is founder and conductor of the Keystone Winds, an ensemble dedicated to the performance of American band music. Two CD recordings on the Citadel label entitled "Past the Equinox: The Music of Jack Stamp" and "Cloudsplitter" by the Keystone Wind Ensemble with the composer conducting feature his band works. He is founder and conductor of this ensemble, and also leads them on the Citadel releases, "Night Fantasy: The Wind Music of Robert Ward", "Divertimento: Wind Music by American Composers", "Celebrations", "Wind Visions: The Music of Samuel Adler", "Songs of Abelard", "Pageant", "Cornerstones", and "Out of the Depths". He has also initiated a new series on the Klavier label which boasts three releases which include composer interviews: "The Composer's Voice: The Music of Norman Dello Joio", "The Composer's Voice: The Music of H. Owen Reed", "The Composer's Voice: The Music of William Schuman". "The Composer's Voice: the Music of Alfred Reed", "The Composer's Voice: The Music of Ron Nelson", "Leroy Anderson - The Phantom Regiment and Other Tales" and "The Band Music of Fisher Tull" released in the fall of 2015.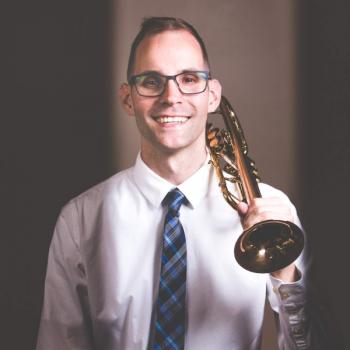 As a conductor, Benjamen Blasko has been invited to conduct performances and lead master classes across the United States. Blasko's primary teachers include Eugene Migliaro Corporon, Dennis Fisher, Nicholas Enrico Williams, Jack Stamp, Jason Worzbyt, Brad Genevro, William Stowman, Timothy Dixon, Thomas Leslie, and Linda Tedford. As a recording engineer, he has been involved in the recording, editing and mastering processes for many world-class organizations such as the Nashville Symphony, UNT Wind Symphony, University of North Texas Symphonic Band, IUP Wind Ensemble, the Messiah College Wind Ensemble, Dr. William Stowman, Tromba Mundi, the Agora Brass Ensemble, the Keystone Wind Ensemble, members of the Colorado Symphony, Covalence, and the Messiah College Concert Choir. For the past 10 years, Blasko has studied recording techniques with Grammy Award winning engineer Bruce Leek.
Blasko's composing encompasses many mediums including orchestra, wind band, jazz ensemble, brass ensemble, marching band, choir, film music, and contemporary music ensembles. His works have been performed all across the United States, including but not limited to Tromba Mundi, the Messiah College Wind Ensemble, the Greater Harrisburg Concert Band, the IUP Wind Ensemble, Bravo Brass, Colton Dixon, One Republic, the Agora Brass Ensemble, the UNT Symphony Orchestra, the United States Air Force Band and the United States Navy Band.
His music has been performed at film festivals, multiple All-State Conferences, the International Trumpet Guild Conference, the National Trumpet Competition, Cancer Blows, and various other national events.
His primary composition teachers include Kirsten Broberg, Bruce Yurko, Jack Stamp and Mike Harcrow; he has studied with film composer Bruce Broughton and former composer in residence with the Atlanta Symphony, Alvin Singleton.
Workshop Fees
Category I (Max 12) We will a waitlist for unexpected cancellations.
Conductor Participants of all levels and interests will work intensively on conducting with the clinicians. The mornings will entail daily topical sessions, presentations, and activities related to conducting and teaching. In the afternoons, each Conductor Participants will receive 15 minutes of individualized podium time each day for the three days. The Conductor Participant track is designed for improvement of conducting and teaching at all levels. The conductors will conduct their work on a public performance on the final day of the workshop. All participants are required to play their instrument in the afternoon Workshop Band sessions. Music will be assigned and repertoire assignments will be made by May 10th.
Conductor Participant
Fee: $350
Category II (Unlimited Capacity)
Unlimited Observer Participants are welcome to attend all sessions of the Workshop. The Observer Track is designed for any participant interested in learning more about conducting and teaching, but do not wish to conduct in the afternoon Lab Concert Band sessions. Observer Participants are NOT required to play in the afternoon Lab Concert Band sessions, unless registered for the Observer Participant w/ Lab Band Performance Track (which includes a $50 reduction in Fee)
Observer Participant
Fee: $150
Observer Participant w/ Lab Band Performance Track
Fee: $100
Registration, Housing, Meals, and Transportation expenses are not included in Session Fees.
Meals/Lodging
Participants are responsible for all meal/Lodging expenses. Light pastries and coffee are provided each morning. A cafeteria is located in Bennett Campus Center located across the square from the Workshop location. See restaurant guide and restaurant map for nearby dining options. Online registration does not include any pre-paid meal options.
Registration closes May 1.
Once you apply you will be notified when to submit payment at the link below.