Music Summer Brass Camp - Cancelled
Wednesday, July 1 - All Day
Lipscomb University/ Sound Emporium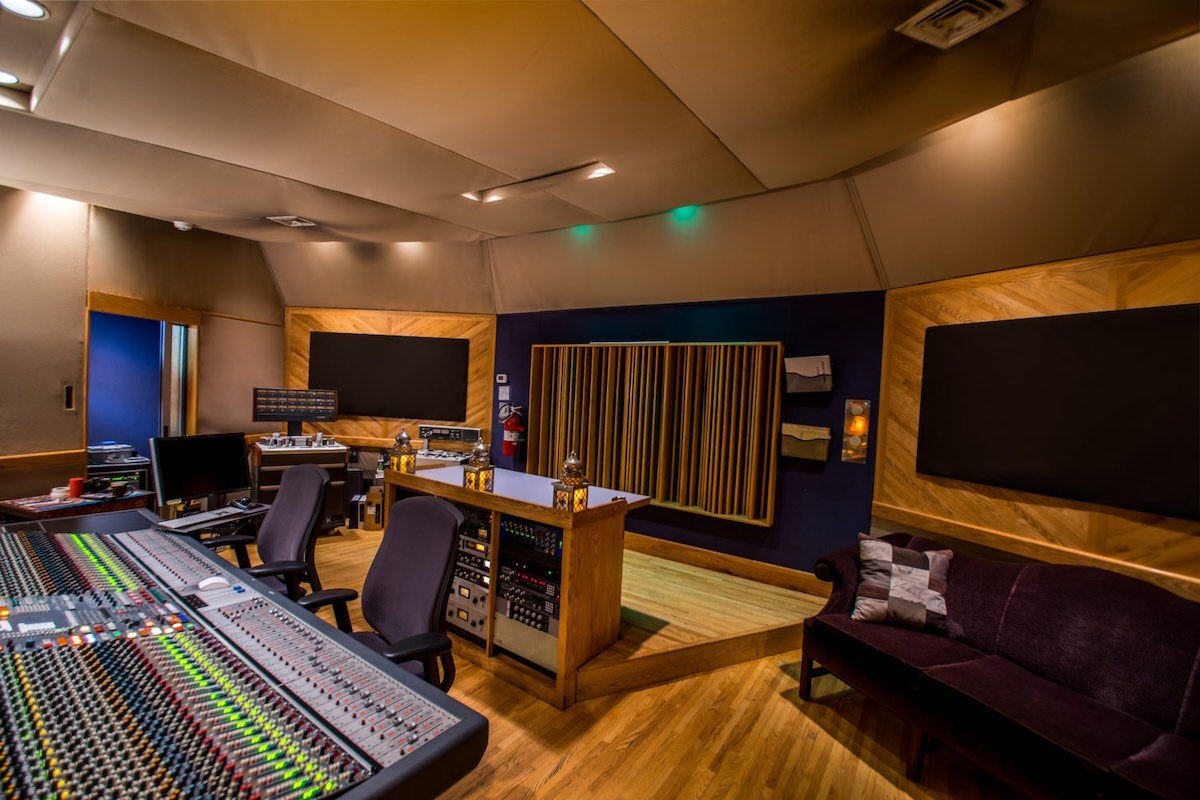 For public health reasons, we are canceling these workshops for this year. Please follow the SOM Facebook page for updates in the future.
---
This workshop will be first hand experience for up and coming highschool brass players, to experience what it is like to be a studio recording musician. It will be three full days of learning the ins and outs of what it is like to record music for media and video games. These sessions will take place in the legendary Sound Emporium Recording Studio, which is owned by Lipscomb University. Artists such as Garth Brooks, Johnny Cash, Yo-Yo Ma, Taylor Swift, and Willie Nelson have recorded there. 
Audition to have the opportunity to come to music city and sit and work side by side with working professionals who are at the top of the field in brass recording arts. 
Tuition: $600
Includes all sessions, masterclasses, activities, food, and lodging
---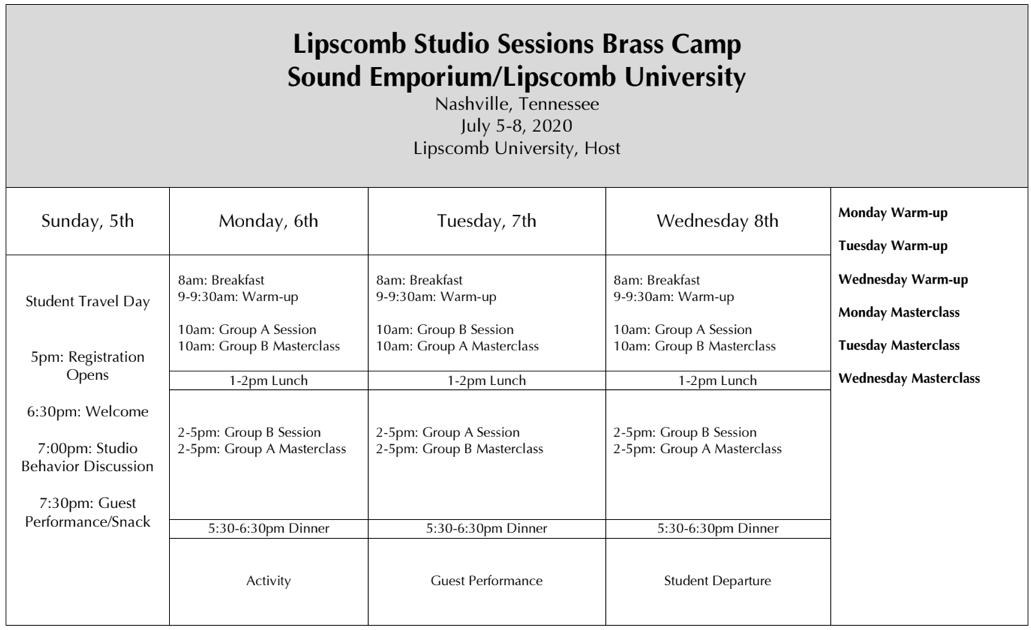 Brown Bannister brings nearly four decades of industry experience to his work as Director of the School of Music. Best known as a successful mentor and producer for top Christian artists, his work actually includes a broad range of production, engineering, arranging and writing credits across contemporary music genres. He has collaborated with artists such as B.J. Thomas, Amy Grant, Michael W. Smith, Steve Wariner, Steven Curtis Chapman, Kenny Rogers, Kris Allen, Third Day, Mercy Me, CeCe Winans and Michael Tait. In the process of selling more than 50 million records, Bannister has won 15 GRAMMY® Awards, more than 20 Dove Awards and has been named "Producer of the Year" five times by the Gospel Music Association. He is a member the Gospel Music Hall of Fame. "At this point in my career, I am eager to have an opportunity to make an impact on future music professionals by sharing my experiences and lessons learned in my nearly 40 years in the business," says Bannister of his move to university teaching. "I look forward to mentoring these students, helping them make connections with industry experts, giving them hands-on learning opportunities and preparing them for their careers by providing a strong inter-disciplinary educational foundation. I look forward to this opportunity, and am especially excited about being a part of a Christian institution with which I share common values and beliefs."
Benjamen Blasko is the Director of Instrumental Studies at Lipscomb University, where he oversees the vision for all instrumental ensembles & private instruction.  Ben was a student Eugene Migliaro Corporon at the University of North Texas and has also studied with Jack Stamp, Jason Worzbyt, Brad Genevro, William Stowman, & Timothy Dixon. As a recording engineer, he has been involved in the recording, editing and mastering processes for many world-class organizations such as the UNT Wind Symphony, University of North Texas Symphonic Band, IUP Wind Ensemble, the Messiah College Wind Ensemble, Dr. William Stowman, Tromba Mundi, the Agora Brass Ensemble, the Keystone Wind Ensemble, members of the Colorado Symphony, and Covalence. For the past 11 years, Blasko has studied recording techniques with Grammy Award winning engineer Bruce Leek. His composing encompasses a wide variety of mediums. His works have been performed all across the United States, including but not limited to the Nashville Symphony, One Republic, Tromba Mundi, the Messiah College Wind Ensemble, the Greater Harrisburg Concert Band, the IUP Wind Ensemble, Bravo Brass, Colton Dixon, the Agora Brass Ensemble, the UNT Symphony Orchestra, the United States Air Force Band and the United States Navy Band. His music has been performed at film festivals, multiple All-State Conferences, the International Trumpet Guild Conference, the National Trumpet Competition, Cancer Blows, and appears on the Naxos, Mark Custom, Klavier, and Capitol Record Labels. His primary composition teachers include Bruce Broughton, Jack Stamp, Kirsten Broberg, Bruce Yurko, and Alvin Singleton.
---
CLINICIANS
---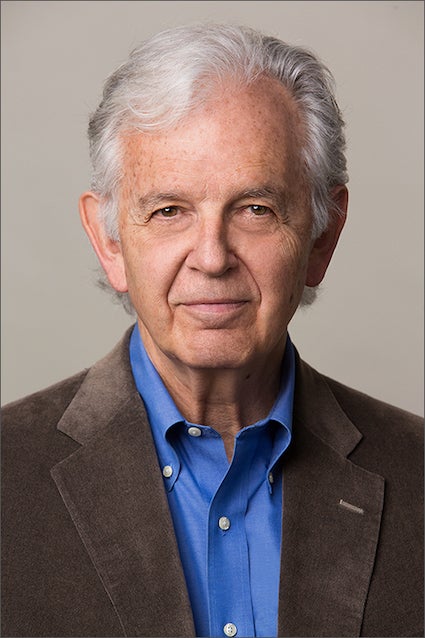 ---
Bruce Broughton is best known for his many motion picture scores, including Silverado, Tombstone, The Rescuers Down Under, The Presidio, Miracle on 34th Street, the Homeward Bound adventures and Harry and the Hendersons. His television themes include The Orville, JAG, Steven Spielberg's Tiny Toon Adventures and Dinosaurs. His scores for television range from mini-series like Texas Rising and The Blue and Gray to TV movies (Warm Springs, O Pioneers!) and countless episodes of television series such as Dallas, Quincy, Hawaii Five-O and How the West Was Won.
With 24 nominations, Broughton has won a record 10 Emmy awards. His score to Silverado was Oscar-nominated, and his score to Young Sherlock Holmes was nominated for a Grammy. His music has accompanied many of the Disney theme park attractions throughout the world, and his score for Heart of Darkness was the first recorded orchestral score for a video game. In the spring of 2016, he arranged a commercial album of songs from motion pictures and Broadway for the multi-talented Seth MacFarlane.
Many of Broughton's concert works have been performed by the Cleveland Orchestra; the Chicago, Seattle and National Symphonies; the Los Angeles Chamber Orchestra; the Sinfonia of London; and the Hollywood Bowl. These have included Fanfare for 16 Horns, a joint commission by the Los Angeles Philharmonic and the International Horn Society premiered at the Hollywood Bowl; Modular Music, composed for the Los Angeles Chamber Orchestra; the children's fantasy The Magic Horn; In the World of Spirits and A Celebration Overture are among his commissioned works for symphonic winds; and Fanfares, Marches, Hymns and Finale and Masters of Space and Time are among his works for brass. Broughton has also had numerous works for chamber ensembles performed and recorded throughout the world, including his Five Pieces for Piano, recorded by pianist Gloria Cheng; Excursions for trumpet and band, recorded by trumpet virtuoso Philip Smith; and his string quartet Fancies, recorded and commissioned by the Lyris Quartet.
Broughton is currently a board member of ASCAP, a former governor of the Academy of Television Arts and Sciences and the Academy of Motion Picture Arts and Sciences, as well as a past president and founding member of The Society of Composers and Lyricists. He has taught composition and orchestration at USC's Department of Screen Scoring in the Thornton School of Music, and at the UCLA Herb Alpert School of Music. He is composer-in-residence for 2017 at the University of North Texas College of Music.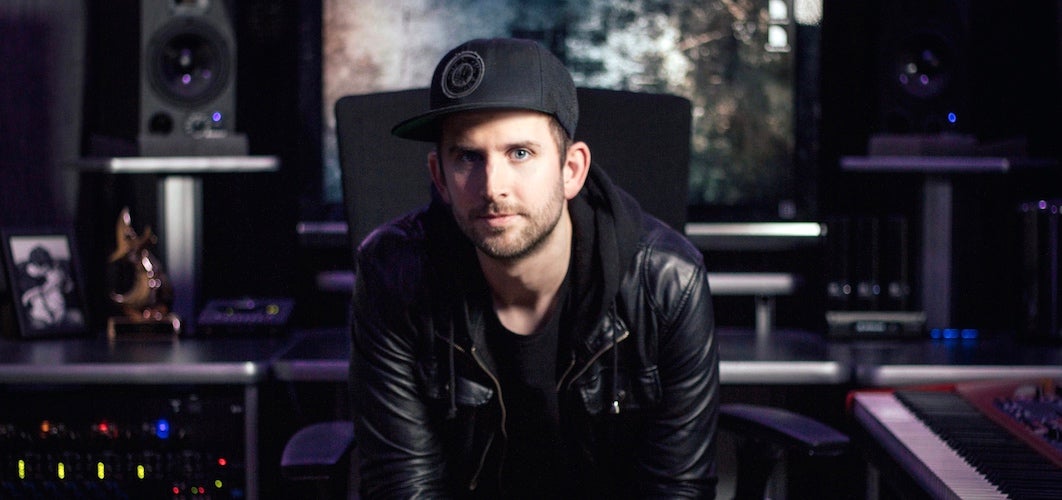 ---
Tommee Profitt is an Award-Winning Cinematic Producer/Composer/Songwriter in Franklin, TN. He is most notably known for his work with NF, and his cinematic productions which have been placed in Movie Trailers, TV Promos, Video Games, ABC, NBC, FOX, CBS, ESPN, NFL, NBA, NHL, MLB, NCAA Sports,NETFLIX, Hulu, Amazon Prime, MTV, VH1, HBO, CW, OWN, GOLF, Freeform, Showtime, Starz, Mountain Dew, Finish Line, Under Armour and more.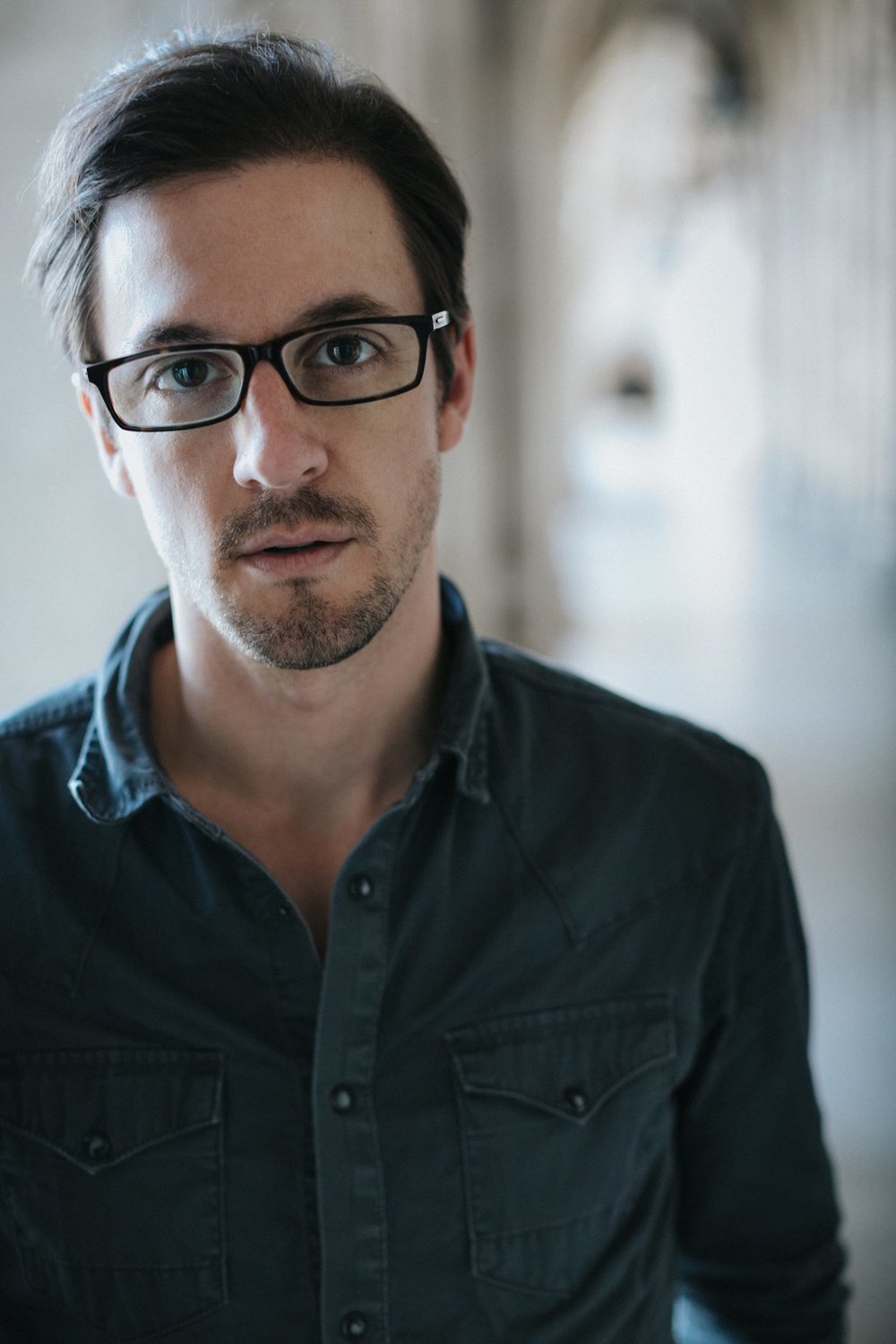 ---
Brandon Michael Collins' musical experience spans genres, but his attention to craft attests to his devotion to the art of composition. His study of classical piano, experience in the Phoenix Boys Choir, Renaissance ensembles, and church orchestras; and performance in bands, L.A. clubs, and label showcases have provided a wide array of musical influences. 
As a songwriter, Brandon often collaborates with Brent Kutzle of One Republic, co-authoring the One Republic song Kids, and has also worked with Micah Tyler, Travis Ryan, Brenton Brown, Phil Wickham, U2, and Matt Redman.

Brandon studied orchestration with JAC Redford and aided him on scores like James Horner's The Amazing Spiderman and Thomas Newman's The Iron Lady.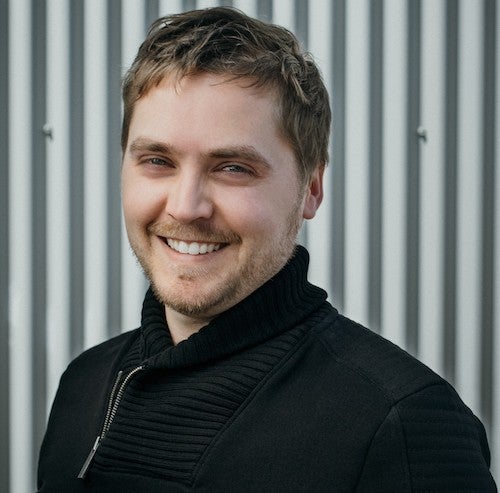 ---
Kyle J. Baker writes evocative music for film, chamber ensembles and school groups. Classical in heritage, but vernacular in vocabulary, his music has earned accolades for its rhythmic intensity and lyrical integrity. Influential teachers include Andy Hill, Ken Read, John LaBarbara, and Delfeayo Marsalis.
Born in Scotland and raised in St. Louis, Baker makes his home in Nashville where collaborates with filmmakers, brand managers and educators. Media credits include Heaven Bound, The Matchbreaker, WAR ROOM, Dance Network, and Bloom in the Dark. Prince of Pools debuted at the Nashville Film Festival.  As a musician and composer, he's been fortunate to be affiliated with a number of fine groups- Carolina Crown, SONUS choir, Avila Soul String Quintet, Re:Ignite Electric Strings, William Carey University, and the Nashville Composers Collective. 
Mr. Baker is published by Lovebird Music. 
"One of Nashville's most daring, thoughtful, and lyrically gifted composers.."  John Pitcher (Tennessean, Nashville Scene,
ArtsNash.com
)
---
FACULTY
---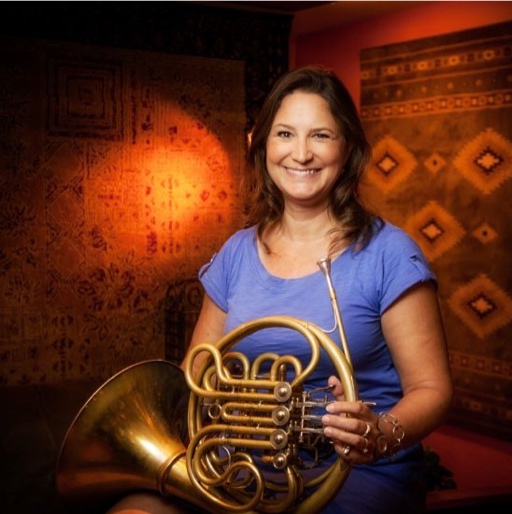 ---
Hornist Jennifer Kummer was hired as first call/principle horn for the Nashville String Machine in 1997. She left behind principle horn positions in the Memphis, Grant Park, and Honolulu Symphonies to fulfill her dream of becoming a studio player. She studied with legendary studio musician Vincent DeRosa at the University of Southern California and attributes much of her style of playing to his influence. She frequently plays with the Nashville and St. Louis Symphonies and is thrilled by the variety of musical outlets Nashville has to offer. She is currently first call horn for most sessions in Nashville. Additionally, she is instructor of horn at Lipscomb University.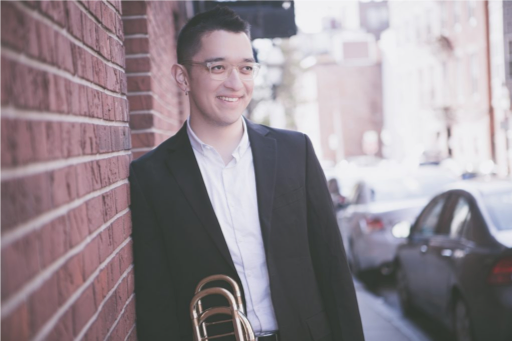 ---
While Matt Jefferson is best known as the bass voice of the acclaimed trombone quartet Maniacal 4, his versatility extends to classical and commercial music as well. Equally versed on bass trombone, tenor trombone, and tuba, he has performed with the Louisiana Philharmonic, Nashville Symphony, the Acadiana Symphony Orchestra, and the Grammy-nominated One O'Clock Lab Band. Matt is a first call trombonist for session work in Nashville, Tennessee. A graduate of the University of North Texas, Matt's true passion is for teaching. He currently is instructor of trombone at Lipscomb University. He has also served on the faculty of Nicholls State University.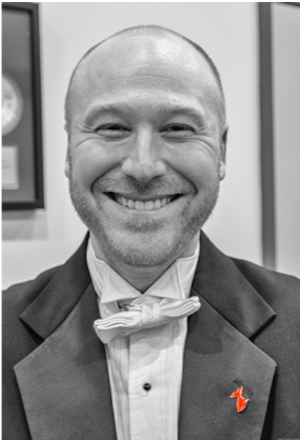 ---
Born in Hendersonville, TN, Preston Bailey has been playing the trumpet since he was 12 years old. After earning a Bachelor's of Performing Arts degree from MTSU, Preston went to UKMC and completed a Master's of Performing Arts. While at UKMC, Preston was a member of the Fellowship Brass Quintet, which was a finalist in the Coleman Chamber Music Competition. In January 2012, Preston began performing with the Nashville Symphony. Preston is one of the first call trumpet players for studio session in Nashville. Additionally, Preston is instructor of Trumpet at Lipscomb University.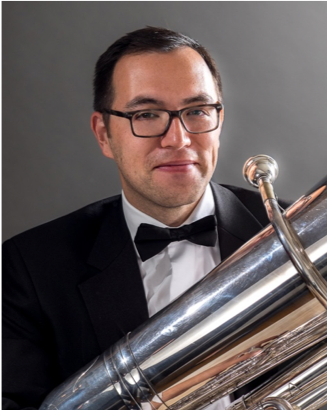 ---
Neil Konouchi was named Principal Tuba of the Chattanooga Symphony and Opera as of the 2014-2015 season. Based in Nashville, Tennessee, he is an active studio musician that has appeared on a variety of motion picture and video game soundtracks and has recorded and performed with numerous artists including Jack White, Imagine Dragons, Alice Cooper, Vince Gill, Willie Nelson, Faith Hill, and Tim McGraw. Neil is also a regular substitute with the Nashville Symphony and appears with the NSO on Naxos recordings 8.570716 (Pictures at an Exhibition) and 8.559678 (Morning's Embrace). He is a founding member of Halfbrass and a touring member of Mr. Jack Daniel's Original Silver Cornet Band. Prior to relocating to Nashville, Neil played tuba and bass trombone as a cast member in Walt Disney World's Magic Kingdom. He attended the University of Southern California where he studied with legendary studio musicians Tommy Johnson and Jim Self and later finished his degree at Berklee College of Music. Aside from performing, Neil is an experienced music educator, clinician, and adjudicator.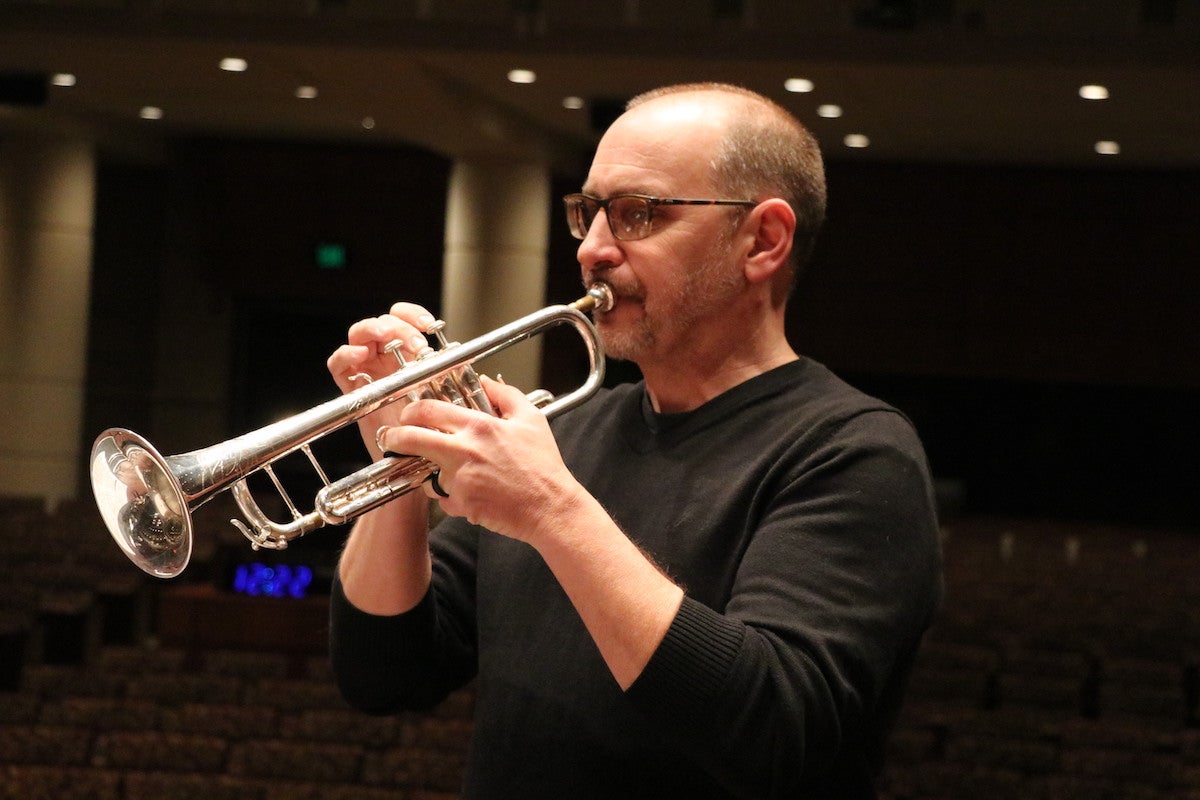 ---
---
GUEST CLINICIANS
Dr. William Stowman is Professor of Trumpet and Chair of the Department of at Messiah College in Mechanicsburg, PA where he teaches trumpet and directs the Jazz Ensemble and Trumpet Ensemble.  He is the recipient of the Dr. Robert and Marilyn Smith Award for Excellence in Teaching at Messiah College and has also received the Citation of Excellence from the Pennsylvania Music Educators Association. In 2009, he hosted the International Trumpet Guild Conference in Harrisburg, PA with colleague and friend, Rebecca Wilt. In 2014 and 2015, he served as Host for the National Trumpet Competition. With a variety of performance and recording credits to his name, he is the Founder and Musical Director of BrassCross, a unique ensemble comprised of faculty and students from Messiah College who released a recording of the antiphonal music of Gabrieli titled Luminocity. As a member of the North Texas Wind Symphony and Keystone Wind Ensemble, he has appeared on numerous recordings. As a member of Tromba Mundi, Bill has recorded two projects, Sinfonia Americana and Quest for Adventure, a project that included several world premieres performed in Carnegie Hall.   Bill has two solo recordings to his credit; A Matter of Seconds is a collection of lyrical works for trumpet that has garnered critical acclaim, and his newest release A Timeless Place which was released in August of 2016 on the Klavier Label.