The Art Event
16th Annual Art Event: Feb. 28 - Mar. 1, 2020
Location: McCadams Athletic Center 
1027 Caldwell Lane Nashville, TN 37204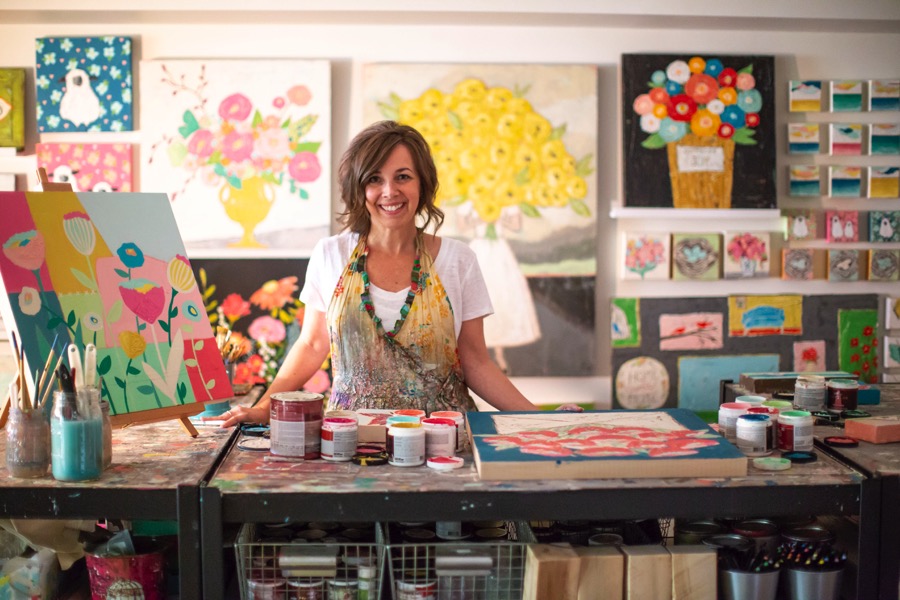 2020 Featured Artist: Emily Little
Pops of color. A medley of textures. Unexpected palettes. Joyful expression. These are the hallmarks of Emily Little's bright and happy paintings.
Emily Little of Little E Studio is a self-taught mixed media artist based in Nashville, Tennessee. She uses layer upon layer of color and texture to create works of intentional joy. Emily's style developed as she experimented with different mediums and applications until she found her niche with acrylic paints and the palette knife. Her original work can now be found in fine art galleries and curated boutiques in Tennessee, Alabama, and Florida as well as juried art shows. Her fresh palette and unique style have also been featured on home and gift decor nationwide. 
Admission is free.
Over the weekend of Feb. 8-10, 2019, Lipscomb Academy hosted its 15th annual Art Event at the McCadams Athletic Center. The MAC was transformed into a beautiful venue displaying a wide range of media that include painting, jewelry and woodworking, featuring the artwork of artist Mary Miller Veazie of Murfreesboro.
Our 2018 event showcased featured artist Vicki Denaburg of Birmingham, AL, and was our most successful to date, boasting more than $205,000 in fine art sales, raising $61,000 for the Lipscomb Academy Annual Fund.
The Art Event is Lipscomb Academy's major fundraiser that features more than 70 participating artists, with 30 percent of each art sale benefiting the school. Artists include established and new artists selected from nearly 130 applicants, as well as talented Lipscomb students. In addition to the art show, there is a silent auction of pieces donated by participating artists, with proceeds from the auction going directly to the Fine Arts programs at Lipscomb Academy. Fine Arts is a key part of the student experience at Lipscomb Academy, and support from the Art Event ensures that our students will have the resources needed to hone their talents.
We ask that you prayerfully consider donating your time during the 2020 Art Event. An event of this magnitude requires 135 volunteers to run smoothly and we need your help. Moms, dads, grandparents and students are all welcome to volunteer!
Follow Us on Facebook   Follow Us on Instagram
Artist List 2020
Amy Crews
Ann White
Ben Caldwell | Ben & Lael, Inc.
Betsy Marsch
Bill Paul
Bitsy King
Colleen Lyons
Daron Frazier
David Nichols
David Rhine
Deborah Dunn
Diane L. Lawrence
Eddie Powell
Elaine Jackson
Ellen Parker Bibb
Emily Little | Little E Studio
Erika Robert
Erin Anderson
Erin Rickelton
Frank Baggett
Fred Cox
Ginny Elder
Hannah Clayton
Jairo Prado
James Threalkill Arts
Jim Weaver
JJ Howe Art
Joan Curtis
Joe Edward Swing
John Ha
Judson Newbern
Judy Bolton Jarrett
Karen Fincannon
Karen Philpott
Kathy Hight Fitzgerald
Kim Elkins
Kirsten Koza
Larry and Deborah Drake
Laura Walker | Art With a Soul
Lauren Dunn
Leatha Frost
Leila Platt
Lisa McLaughlin
Lisa Taylor
M. Gene Albritton
Marian Baker
Marilyn Wendling
Marty Parker
Mary Miller Veazie
Mattie Wolf | Second Story Art
Michelle Reeves Art
Mike Moyers
Nashville Rug Gallery
Olga Alexeeva
Peggy Reeves
Randy Hodges Watercolors
Richard Bowers
Ron Lewis
Sandy Burr Photography
Sarah Pollock Studio
Sarah Robertson
Shari Lacy
Sherri Parrish
Teresa Townsend Hargis
Tim Ross
Trey Geary
Vicki Denaburg
Vicki Shipley
Zu Sheng YU