Singer-songwriter Ashlyn Grayce to headline pre-football game community festival Oct. 10
Football season is underway at Lipscomb Academy and the Nashville community is invited to share in the excitement!
Office of Public Relations & Communications |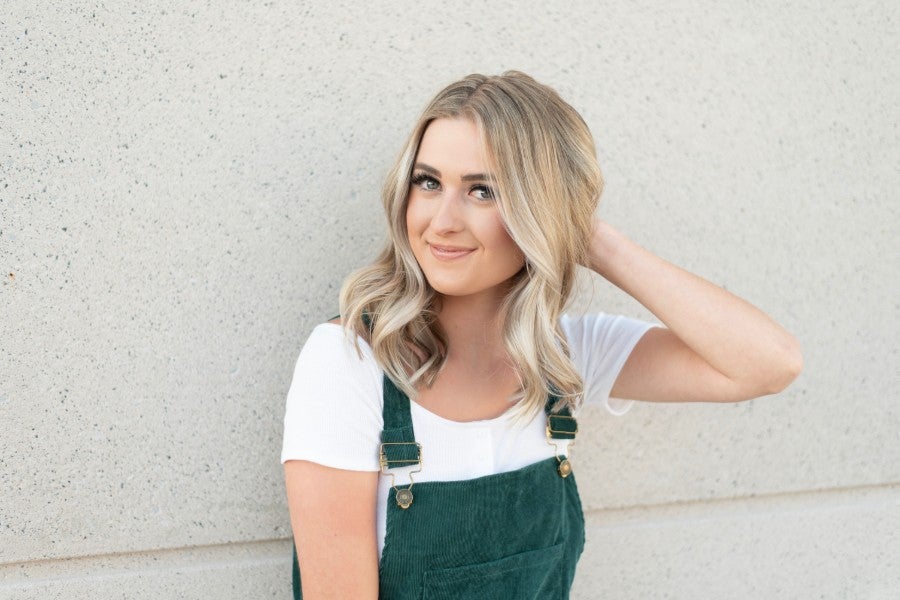 This fall Lipscomb Academy is hosting a FREE community celebration for neighbors and fans of all ages that will take place before each home football game this season. The festivities feature exciting musical entertainment from some of Nashville's biggest names and a few surprise musical guests, inflatable games for kids, food vendors and more.  
The fun continues THURSDAY, Oct. 10, with singer-songwriter Ashlyn Grayce as headliner. Grayce, a 2018 Lipscomb University graduate, recently released her first EP, Somethin' 'Bout A Song, which debuted at #4 on the iTunes Singer/Songwriter Chart and their Bestseller list, and she has already seen sales in over 20 countries. Her ability to write and perform songs that connect with her audience of all ages, have allowed her to perform at venues such as the Blue Bird Café, Hard Rock Cafe, Tootsies, The Listening Room and The Nashville Palace as well as large festivals across the southeast. She has also showcased her on-camera talents serving as co-host for episodes of TBN's Juce TV internationally syndicated "JUCE Live," "JUCE Live After Party" and filming social media updates for their TV show "Hot off the Press." Grayce has been a fan of country music for as long as she can remember. Her parents, music industry veterans, Dallas Gregory and Cheri Cranford, met singing at the Grand Ole Opry, and both were singer-songwriters before moving to the business end of the industry. At the age of 14,  during CMA Fest, Grayce realized making music was her calling which prompted her to learn how to play guitar and write her first song. To learn more about Ashlyn Grayce, visit www.ashlyngrayce.com.
Nashville based band, The Arcadian Wild, led by songwriters and Lipscomb alumni Isaac Horn (guitar) and Lincoln Mick (mandolin), will also be featured at the pregame festival. Recently, The Arcadian Wild released its sophomore record, "Finch in the Pantry" (May 2019, Antifragile Music), which debuted at #9 on the Billboard bluegrass chart.
The FREE pre-game festival takes place on the Lipscomb Academy baseball field adjacent to the football field at the Reese L. Smith Athletic Complex located at the intersection of Caldwell and Lealand Lanes in the Green Hills area of Nashville, and all the excitement begins at 5 p.m. The Nashville community is invited to attend and to bring their family and friends. Guests are encouraged to bring blankets and lawn chairs. Lipscomb University is an alcohol-free, tobacco-free campus. 
Following the celebration, the community is invited to stay and watch the Lipscomb Academy Mustangs in action on the football field against Rossview High School. Kick-off is at 7 p.m. Tickets for the football game are $10 for adults, $5 for alumni and non-Lipscomb students (Lipscomb Academy and Lipscomb University students are free with valid Lipscomb ID). Reserved tickets are available for purchase in advance online www.lipscomb.edu/academy/athletics/fan-zone/football-game-day-info. General admission tickets are sold at the gate before each game. The Mustangs are 4-2 under the leadership of new head coach Trent Dilfer, Super Bowl winning quarterback and former ESPN analyst. 
Lipscomb Academy will host one more pre-game celebration before its final regular season home game on Nov. 1.
For Lipscomb Academy Mustang football game-day information, including parking locations, shuttle schedules, game-day schedule, Music City Mustang Stampede details and ticket purchasing, visit www.lipscomb.edu/academy/athletics/fan-zone/football-game-day-info.