Lipscomb Academy named top primary school in nation for energy education
Lipscomb Academy's lower school is making an impact in energy education and in teaching young students environmental stewardship Green Team program.
Kim Chaudoin |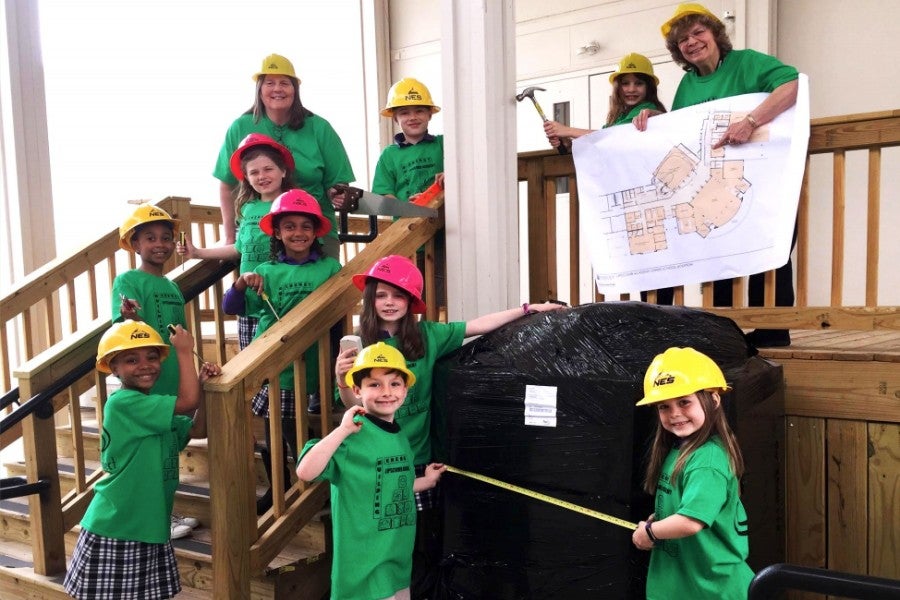 Lipscomb Academy has once again been named National Primary School of the Year and Tennessee Primary School of the Year by the National Energy Education Development Project for its energy education project — Building Energy. This is the fifth year Lipscomb has been awarded these honors. 
Ginger Reasonover and Becky Collins, academy faculty and coordinators of the environmental program at the lower school, and several students will attend the NEED Youth Energy Conference and Awards in June in Washington, D.C. The NEED Project is awarding the school a $1,500 stipend through its national sponsors to help fund travel to the conference. 
"This recognition is really exciting especially for the student. It is affirmation that what we are doing at one school in one city does make an impact — and that others are watching and learning from what we do," said Reasonover. "A keen awareness of the need to be good stewards of our planet has become a strong characteristic of the school's culture. If we can help the children see how we can take care of God's world, they will see that they can change the world. They are our future leaders. At Lipscomb, taking care of the environment is not something that we do … it's something that we are."
Lipscomb Academy's Green Team is comprised of students from kindergarten through fourth grade who studies ten sources of energy each school year. NEED curriculum is the framework used for energy education at Lipscomb Academy.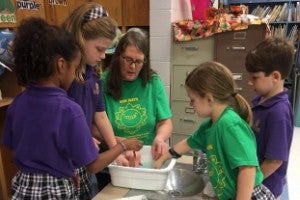 "We build education through experimenting and researching each one to gain proper footing," explained Collins. "The Green Team leads the study body in recycling efforts as an example of conservation and caring for the environment. The team shares expertise with classmates when developing service learning projects in each grade level."
Since the inception of the environmental education program at Lipscomb Academy Lower School in 1999, recycling has been the program cornerstone.
"All grade levels actively participate in efforts to reduce waste in the classrooms, cafeteria and other areas. Teachers, in turn, continually make connections between those efforts and the environment," said Collins. 
Each November, the Green Team organizes an annual America Recycles Day, during which a variety of household waste items are collected for proper disposal. During the America Recycles Day 2018 drive, the Green Team collected 2,500 pounds of items to donate to ThriftSmart, 3,691 pounds of no landfill e-waste, 3,000 pounds of sensitive documents to shred, 105 pounds of outdated medications to dispose of safely through the Metro Nashville Police Department, 288 fluorescent bulbs, 412 used batteries, 300 pounds (6,025) plastic drink bottles, 91 pounds (3,185) aluminum cans, 45 pounds of recyclable plastic wrap and 200 pounds of miscellaneous household waste. Funds earned by the Green Team through its recycling efforts — such as the $1,000 it received from Pepsico for recycling plastic and aluminum drink containers — and other awards and honors are reinvested in the school's environmental education program or to help others. Last summer, the Green Team donated summer recycling earnings to the Living Water Project, which finances, supports and participates in the construction of clean water wells all over the world. They funded the purchase of a solar panel to operate a pump for a new well at a Made in the Streets facility in Nairobi, Kenya.
In addition to recycling initiatives, students assist with maintaining gardens and landscaping on school grounds among other projects. The Green Team also recently conducted an energy audit of a new wing that added 10,000-square-feet of classroom space at the lower school last summer.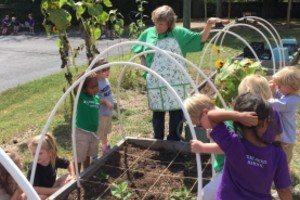 Fours years ago, students launched the STREAM (Students Taking Responsible Environmentally Active Measures) in Progress project to restore life to a portion of the west fork of Nashville's Brown's Creek. The project led to the discovery of a water main leak that had caused chlorine to get into the stream which kept plant and animals from being able to survive there. Once the leak was fixed, in conjunction with Nashville's Metro Water Department, the presence of salamanders and snails were found in the creek and a variety of birds and butterflies returned to the area. For its work, Lipscomb's lower school was named Primary School of the Year by the Tennessee Department of Environment and Conservation's Office of Energy Programs and was recognized by the U.S. Department of Energy as the 2015 Primary School of the Year as part of its NEED project that year. 
This year, the Green Team will assist in maintaining the environmental integrity of the lower school campus as work begins on the Brewer Campus Expansion Project this summer. Students are already at work determining new locations for gardens that will be moved during the construction, and discussing ideas for incorporating environmental elements such as sand pits, jumping stumps and plantings for a maze in to new playground areas. 
Reasonover said Green Team students not only learn environmental stewardship from an early age, they influence those around them. 
"Sharing knowledge and an appreciation of nature is always a primary goal of the Green Team," she said. "Members are constantly reminding classmates and family to recycle and leading class discussions of environmental issues."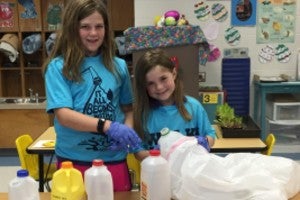 Lipscomb Academy's Lower School is a model for other schools since it launched this program nearly 20 years ago. This past fall, Lipscomb Academy Lower School won top honors in the Good Sports Always Recycle program, which has recognized the program a total of six times, earning a $1,500 prize to invest in the program. In addition to its national Green Ribbon designation, the school's third-graders earned first-place honors in Tennessee as part of Disney's Planet Challenge. In 2013, the school also received the SeaWorld & Busch Gardens Environmental Excellence Award with a $10,000 grant to help fund its School Children's Recycling Action Program (SCRAP). The school was also named Tennessee's 2011 Recycling School of the Year. In 2009, the school received the Governor's Award for Excellence in Green Schools-K-12.