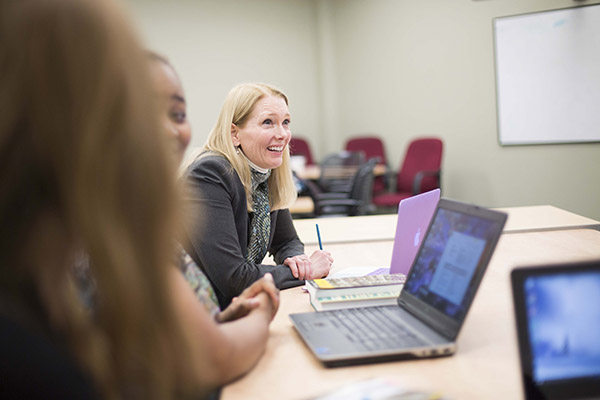 Interdisciplinary Studies in Education
Program Overview
Program Overview
Take the opportunity to earn a bachelor's degree that will be a foundation for further studies. Our faculty will support and guide you to choose an area of emphasis along with electives that speak to your individual interests. 
Prepare to start a career in multitude of fields. You could even continue into graduate school. After all, your potential with this flexible degree is endless.
 
Courses
Courses
Major courses required:
AR 3513 - Art for Children

MU 3203 - Music for Children OR

 

TH 3413 - Creative Dramatics

ED 2313 - Schooling in America

ED 3343 - Cultural Perspectives in Education

ED 3363 - Teaching with Text

ED 3404 - Primary Education

ED 3476 - Reading and Language Arts

ED 3533 - Math Methods

ED 3636 - Clinical Practice I

EN 3013 - Advanced Composition and Rhetoric

Foreign language (8 hours of a foreign language)

HI 2213 - History of the United States I OR

 

HI 2223 - History of the United States II

 

HI 3323 - Cultural Geography

MA 1053 - Survey of Algebra and Statistics

MA 3053 - Survey of Geometry

21 additional hours of elective courses

Note:
A minor must be selected from one of the following areas: art, drama, ethics, French, German, Greek, Hebrew, music, philosophy, Spanish, theology, or education.
Study Abroad
See the world — whether it's Italy, Austria, Costa Rica, England or another country. Career opportunities will open for you as you sharpen your foreign language skills. Gain the international experience and cross-cultural communication skills you'll need in our global economy.
Job placement
With a top-tier university education on your resume, you'll be in high demand, whether you choose to launch your career or begin graduate school. Most of our programs have a placement rate of at least 90 percent within six months of graduation.
Expert faculty, small class sizes
Learn from award-winning, experienced faculty who actually care about you. Our small class sizes allow us to get to know you personally. We lead an approachable community within our respective programs. Our faculty connections are the experts on their subject matter, too.
Career Paths
Career and Technical Education Teachers
Career and technical education teachers instruct students in various technical and vocational subjects, such as auto repair, healthcare, and culinary arts. They teach academic and technical content to provide students with the skills and knowledge necessary to enter an occupation.
Instructional Coordinators
Instructional coordinators oversee school curriculums and teaching standards. They develop instructional material, coordinate its implementation with teachers and principals, and assess its effectiveness.
Teacher Assistants
Teacher assistants work under a teacher's supervision to give students additional attention and instruction.