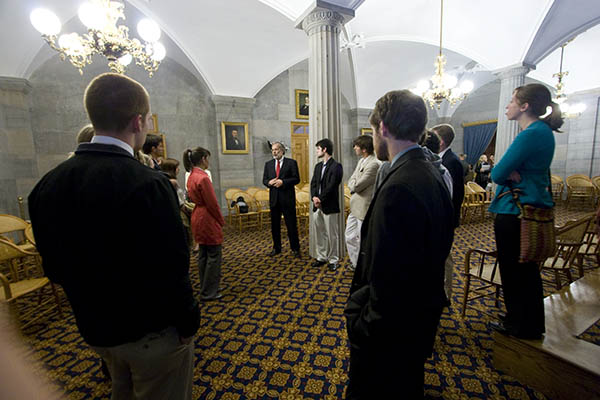 Program Overview
Program Overview
Fully understand attitudes and motivations by researching their origins. Even more, be able to recognize traces of these ancient philosophies in present-day schools of thought. Here, you'll gain a comprehensive study of ideas from all eras — ancient and medieval philosophy, modern philosophy, classical political thought and more. Combine this minor with a major in American Studies, Political Science or another related field, and you'll be well on your way to comprehending the past, present and future of ideas. 
 
Courses
Courses
Specific courses required:
HI 1113 - Foundations of Western Civilization to 1600 

or LUHP 2033 - Great Ideas in History

HI 1123 - Foundations of Western Civilization Since 1600

PL 3213 - Ancient and Medieval Philosophy

PL 3223 - Modern Philosophy

PO 3253 - Classical Political Thought

PO 3263 - Modern Political Thought
Internship
Become more competitive in the job market with an internship related to your interests. You'll gain experience and boost your exposure. An internship will also help you learn whether you've chosen a career you'll enjoy.
Study Abroad
See the world — whether it's Italy, Austria, Costa Rica, England or another country. Career opportunities will open for you as you sharpen your foreign language skills. Gain the international experience and cross-cultural communication skills you'll need in our global economy.
Job placement
With a top-tier university education on your resume, you'll be in high demand, whether you choose to launch your career or begin graduate school. Most of our programs have a placement rate of at least 90 percent within six months of graduation.
Expert faculty, small class sizes
Learn from award-winning, experienced faculty who actually care about you. Our small class sizes allow us to get to know you personally. We lead an approachable community within our respective programs. Our faculty connections are the experts on their subject matter, too.
Service learning
We provide you the opportunity to enhance your academic understanding by applying what you've learned in class to service projects that benefit our community. Before graduation, you'll participate in at least two SALT (Serving and Learning Together) projects.
Neal Allison

Instructor in History

Professor Allison has taught at Lipscomb since 1997. He holds joint appointments to the Department of History, Politics, and Philosophy and the Honors College. Professor Allison's areas of interest are...

Learn More
Career Paths
Historians
Historians research, analyze, interpret, and write about the past by studying historical documents and sources.
Political Scientists
Political scientists study the origin, development, and operation of political systems. They research political ideas and analyze governments, policies, political trends, and related issues.
Postsecondary Teachers
Postsecondary teachers instruct students in a wide variety of academic and technical subjects beyond the high school level. They may also conduct research and publish scholarly papers and books.