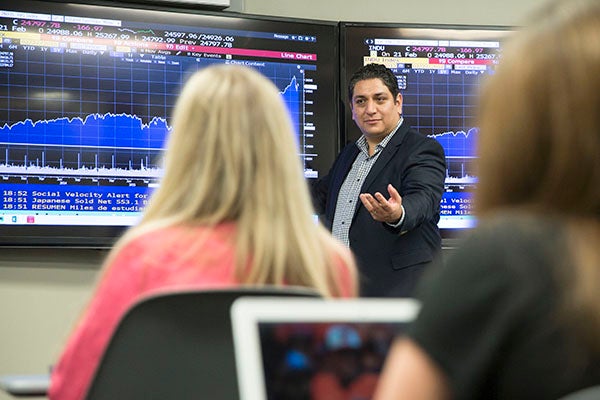 Program Overview
Program Overview
It's no secret that the economy is a complex, dynamic structure that affects us personally and professionally. But the trends and changes can often be explained by long-standing principles. Gain an in-depth understanding of how society uses its limited resources on a local, national and global scale. You'll explore the big picture concepts of macroeconomics including taxes, interest rates and unemployment. With a grasp on this, you'll dive into the details of microeconomics. Become well-equipped to inform and advise on economic tendencies and shifts. Use your economics knowledge to leverage your abilities in other business industries such as accounting and finance, too. 
 
Courses
Courses
Specific courses required:
EC 2413 - Principles of Microeconomics

EC 2403 - Principles of Macroeconomics

EC 3603 - International Economics and Finance

MK 3503 - Principles of Marketing

Elective:
3 additional upper-division hours in Finance or Economics as approved by department chair
Service learning
We provide you the opportunity to enhance your academic understanding by applying what you've learned in class to service projects that benefit our community. Before graduation, you'll participate in at least two SALT (Serving and Learning Together) projects.
Expert faculty, small class sizes
Learn from award-winning, experienced faculty who actually care about you. Our small class sizes allow us to get to know you personally. We lead an approachable community within our respective programs. Our faculty connections are the experts on their subject matter, too.
Job placement
With a top-tier university education on your resume, you'll be in high demand, whether you choose to launch your career or begin graduate school. Most of our programs have a placement rate of at least 90 percent within six months of graduation.
Study Abroad
See the world — whether it's Italy, Austria, Costa Rica, England or another country. Career opportunities will open for you as you sharpen your foreign language skills. Gain the international experience and cross-cultural communication skills you'll need in our global economy.
Career Paths
Economists
Economists study the production and distribution of resources, goods, and services by collecting and analyzing data, researching trends, and evaluating economic issues.
Political Scientists
Political scientists study the origin, development, and operation of political systems. They research political ideas and analyze governments, policies, political trends, and related issues.
Mathematicians and Statisticians
Mathematicians and statisticians analyze data and apply mathematical and statistical techniques to help solve real-world problems in business, engineering, healthcare, or other fields.