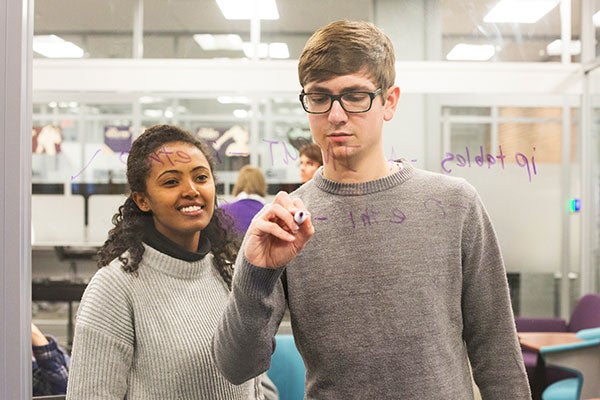 Networking
Both our deeply connected faculty and our experiential learning opportunities offer myriad ways for you to form relationships with leaders in the industry. These connections will serve and support you throughout your career.
Nashville
A big city. An even bigger opportunity. We consider Nashville an extension of our classroom, and as a leading city in many industries, that means you'll gain experience and insight you won't find anywhere else.
Research Opportunities
We know that you want to be an innovator in the field. That's why we offer unique research opportunities in our state-of-the-art facilities with our world-class faculty so that you can hone your expertise.
Fortune Mhlanga

Senior Associate Dean, College of Computing and Technology

Fortune Mhlanga is dean of the College of Computing and Technology. Previously, he was professor of computer science in the School of Information Technology and Computing (SITC) at Abilene Christian...

Learn More

Qingguo Wang

Associate Professor of Data Science

Qingguo Wang's research expertise is in the interdisciplinary field of Computer Science, Computational Biology, and Cancer Genomics. Before joining Lipscomb University, Wang was a Computational Engineer III at Memorial Sloan...

Learn More
Career Paths
Computer and Information Research Scientists
Computer and information research scientists invent and design new approaches to computing technology and find innovative uses for existing technology. They study and solve complex problems in computing for business, medicine, science, and other fields.
Database Administrators
Database administrators (DBAs) use specialized software to store and organize data, such as financial information and customer shipping records. They make sure that data are available to users and secure from unauthorized access.
Mathematicians and Statisticians
Mathematicians and statisticians analyze data and apply mathematical and statistical techniques to help solve real-world problems in business, engineering, healthcare, or other fields.
---
Medical Records and Health Information Technicians
Medical records and health information technicians, commonly referred to as health information technicians, organize and manage health information data. They ensure its quality, accuracy, accessibility, and security in both paper and electronic systems. They use various classification systems to code and categorize patient information for insurance reimbursement purposes, for databases and registries, and to maintain patients' medical and treatment histories.