Presidential Spouse
Lipscomb University's Presidential Spouse Rhonda Lowry has served in the field of education for more than 30 years.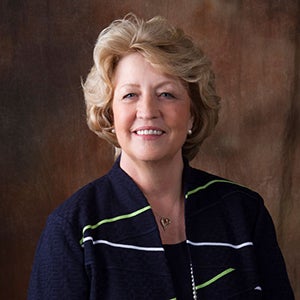 She began her career as a sixth grade teacher and went on to serve as a faculty member at Fuller Theological Seminary and Pepperdine University, as well as the director of development for the Willamette University School of Law in Salem, Ore.
Lowry received her bachelor's degree from Pepperdine University. It was there that she met her future husband, L. Randolph Lowry, and the two were married after graduation in 1975. Soon after, she received her master's in divinity from Fuller Theological Seminary.
Perhaps Lowry's strongest passion is personal ministry. She has a heart for helping others come to know Christ on an intimate and deep level, and how to walk alongside him and serve him daily. To this end, she frequently participates in speaking engagements across the country. Some of these include Laity Lodge in Texas, a program of the H. E. Butt Foundation; the ZOE Group, a nonprofit ministry of Christian renewal based in Nashville; and the Pepperdine Bible Lectures at Pepperdine University. There, she received the WINESKINS award of Christian Service. She also serves on the board for Rochester College, Missions Resource network and the ALS Association, Tennessee Chapter, and is a featured speaker at Lipscomb's annual Summer Celebration.
At Lipscomb, Lowry is integral to the vision and leadership of the university. Her expertise in education and spiritual formation helps to steer Lipscomb in the best direction for our future. She currently serves as senior fellow for the Institute for Christian Spirituality and assistant professor of spiritual formation. 
And around campus, she is beloved for her hospitality. On a regular basis, the Lowry's can be found hosting students, faculty, staff, church members and community members in their home near campus. They seek to be intentional and gracious in their relationships and welcoming to everyone in the Lipscomb family. They have three grown children and five grandchildren of their own.