L. Randolph Lowry is known for his visionary leadership and passion for making a faith-based education accessible to anyone.
He is one of the nation's leading experts in dispute resolution and has completed groundbreaking work in conflict resolution. As a the 17th president of Lipscomb University, Lowry guided the university into a period of tremendous growth across enrollment, physical location and financial status. He steered the university down a path where diversity and curiosity are prioritized and the integration of faithful service with academics is ingrained in students, preparing graduates to leave an impact that goes beyond the university walls, into the city of Nashville and into the world.
L. Randolph Lowry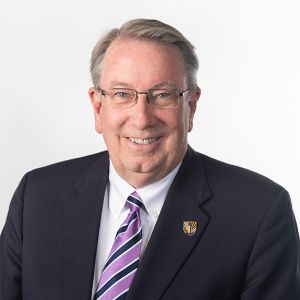 During his presidency, Lowry led Lipscomb into a fruitful season during which the institution has grown in applications, enrollment and retention. The university is ranked a top 10 fastest growing doctoral private school in the nation and is ranked one of the top universities in the region – and nation – for its business, biology, visual arts and teacher prep programs among others. In 2021, Lipscomb completed the most ambitious fundraising campaign in the University's history, with 35,000 first-time donors participating in the $250 million campaign.
Dedicated to the spiritual and academic development of all students, staff and faculty at Lipscomb, Lowry leads with boldness, innovation and determination. His vision for expanding Lipscomb's reach to serve many in an intentionally, courageously and graciously Christian community has resulted in nontraditional programs.
The LIFE program provides traditional students the opportunity to learn alongside residents of the Tennessee Prison for Women who are also working toward their college degrees. 
The IDEAL certificate program is uniquely designed to empower students with intellectual or developmental disabilities to grow into adults with opportunities. 
The Pionero Scholars Program is a scholarship and outreach program that seeks to increase the number of teacher candidates who plan to remain in Davidson County. 
Since launching its literacy campaign, Read to be Ready, in 2016, the Tennessee Department of Education has turned to Lipscomb's College of Education to take a leading role and train more than 2,000 teachers statewide. 
Lipscomb's Office of Veteran Services serves more than 330 veterans and dependents. 
The Respect Leads initiative is a holistic effort to promote a culture of respectfulness in all quadrants of the university. Lipscomb's student body consists of 1,183 (24.2%) ethnic minority students, which is a 393% increase under Lowry's leadership.
The Solly School at Lipscomb Academy is designed as a highly specialized area of education that provides to children with exceptionalities the same opportunities as other children. The special needs program challenges students to learn and grow socially, emotionally and academically to reach their potential.
Believing in the importance of "serving the community before selling our services to the community," Lowry serves on boards of local nonprofits and higher education organizations. He is a member of the Agenda for Nashville's Future, the Rotary Club of Nashville and the Middle Tennessee Council of the Boy Scouts of America's executive committee. He co-chaired the Nashville Mayor's Green Ribbon Committee and has served on the boards of multiple community organizations including United Way of Metropolitan Nashville, the American Heart Association and the leadership council for the Nelson and Sue Andrews Institute for Civic Leadership. Lowry currently serves on the boards of the Council for Christian Colleges and Universities, Moody Center, Nashville Advisory Council, Nashville Chamber of Commerce and Tennessee Independent Colleges and Universities.
Before coming to Lipscomb, Lowry served on the faculty at the Pepperdine School of Law, Vermont Law School, the City University of Hong Kong, Shantou University in Beijing, Bond University in Australia, Hamline University and the University of Modena in Italy.
Lowry has established himself as one of the nation's leaders in the dispute resolution field, a designation he's held for more than 20 years. After developing an innovative program at Willamette University College of Law in Salem, Oregon, Lowry founded the Straus Institute for Dispute Resolution at the Pepperdine School of Law. It has consecutively been named the top graduate program of its kind, consistently achieving the No. 1 ranking by U.S. News & World Report. In 2004, Lowry formalized his longstanding consulting and training practice into the firm now called Strategic Resolutions Group, LLC. A lawyer, mediator, author, consultant and teacher, he has served clients across the country and the world in conflict management consulting, systems design and training.
Lowry holds a bachelor's degree in political science and a master's degree in public administration from Pepperdine University, and a juris doctorate degree from Hamline University. A native of Oregon, he and his wife, Rhonda, are proud to now call Nashville and Lipscomb home. They have three grown children and nine grandchildren.